Cubic Recognized For Board Diversity
Monday, April 20, 2020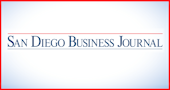 San Diego-based defense contractor Cubic Corp. has been recognized for the composition of its board — namely for the fact that four of its nine directors are women.
The advocacy group 2020 Women on Boards recently designated Cubic as a Winning "W" Company, with at least 20% of its board made up of women.
Having a board that is 44 percent female goes beyond the state of California's mandate to have at least one board member who is a woman, and three board members by Dec. 31, 2021.
"It's even more critical now, at a time when the business world is transforming a total shift in board governance practices, that we applaud leading companies including Cubic that appreciate having business-savvy women on their boards as a competitive advantage," said Betsy Berkhemer-Credaire, CEO of 2020 Women on Boards, which is based in Los Angeles. "Even with the positive national momentum, U.S. companies are still a long way from gender balance in the boardroom and Cubic is showing the way."
Four Members
Denise Devine and Carolyn Flowers were both named to newly created seats on the Cubic board in late 2019. Devine is a certified public accountant. She is founder and CEO of FNB Holdings LLC and since 2014 was co-founder, chief administrative officer and chief financial officer of RTM Vital Signs LLC. Flowers has been partner and managing principal of InfraStrategies LLC since February 2019. An experienced transportation executive, she was formerly the senior vice president of the Americas transit market sector at AECOM and served in the administration of President Barack Obama.
Cubic's board also includes Maureen Breakiron-Evans, who has been a member since 2017, and retired Rear Adm. Janice Hamby, who was named to the board in 2015. Breakiron-Evans is the former CFO of the Towers Perrin professional services corporation and previously was an executive with CIGNA Corp. Hamby is a cybersecurity expert and the former chancellor for the college of information and cyberspace at the National Defense University. She is chair of Cubic's classified business oversight committee.
"Cubic is proud to be recognized for our commitment to boardroom diversity and we are fortunate to have four female directors who bring deep industry expertise and unique perspectives to Cubic," said Brad Feldmann, chairman and CEO of Cubic.