Chicago Firm Acquires Two Life Science Buildings In Sorrento Mesa
Thursday, April 16, 2020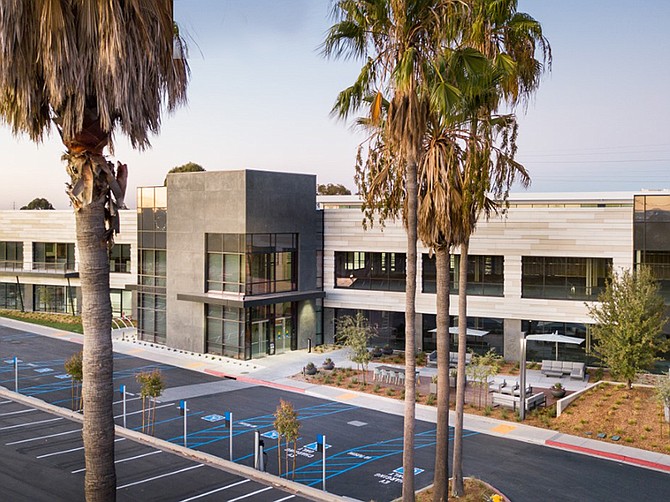 A Chicago-based real estate investment company, Harrison Street, has acquired two Sorrento Mesa life science buildings, illustrating the ongoing expansion by life science companies in the region.
Partnering with BioScience Properties (BPI) based in San Diego, Harrison Street acquired the buildings at 10770 Wateridge Circle and 6325 Lusk Blvd. for an undisclosed price.
234,000 Square Feet
Combined, the two buildings have 234,000 square feet of laboratory, manufacturing, office and research and development space.
The buildings were remodeled in 2019 from general office use to Class A science.
The remodeling included gutting the buildings and adding common area amenities.
"This transaction is reflective of Harrison Street's commitment to supporting the life sciences sector as the need for breakthrough therapies and innovations has never been greater," said Mark Burkemper, a senior managing director at Harrison Street and head of the company's transaction group.
"We are excited to partner with BPI, a life sciences developer and operator with extensive experience and a deep presence across San Diego who brings a unique understanding of tenant needs, project requirements and nuances of lab buildouts," Burkemper said.
Second Deal in San Diego County
This is Harrison Street's second deal in the San Diego County market and comes at the same time that Boston-based Longfellow Partners is turning 17 Sorrento Valley buildings it bought in 2019 into a single life-science campus.
Harrison in 2019 bought a medical office building in Escondido on the campus of Palomar Medical Center.
Looking for More San Diego Life Science Investments
The company is looking for more life-science investments in San Diego County, and Burkemper said the COVID-19 pandemic underscores the need for the life sciences.
"These types of facilities are essential and provide critical services, which must continue to operate in any situation," Burkemper said. "Both medical office buildings and life science buildings support a variety of essential services such as laboratory, research and development, diagnostics, cancer and disease treatment, emergency care and manufacturing."
In the case of the Sorrento Mesa property, Burkemper said the tenants in the two buildings "specialize in pharmaceutical manufacturing with a focus on vaccines, innovative cancer therapies and nucleic acid synthesis."
Critical Needs-Based Spaces
"These critical needs-based spaces will always be a focus for Harrison Street's investments in medical offices pace and the life sciences sector," Burkemper said.
Although the numbers are a bit outdated because they reflect activity prior to the COVID-19 pandemic, the commercial brokerage firm JLL said in its fourth quarter report for 2019 that San Diego County "recorded dynamic growth in 2019" with rental rates rising 12 percent over 2018.
Since 2015, San Diego Life Science Cluster Has Grown 22%
"Sustained by healthy tenant demand, the redevelopment and office-to-lab conversion trend picked up momentum in 2019," JLL reported. "Since 2015, the San Diego life science cluster (Torrey Pines, UTC/Campus Point, Sorrento Mesa, Sorrento Valley) has grown by 22 percent, adding more than 875,000 square feet of new supply in 2019."
Those four submarkets ended 2019 with a total life-science inventory of more than 16 million square feet, according to JLL.
Torrey Pines had the biggest share with about 5.9 million square feet, followed by UTC/Campus Point with about 4 million square feet, Sorrento Mesa with about 5 million square feet and Sorrento Valley with about 1.1 million square feet.
"The San Diego life sciences market ended the year on a high note, recording a total of 24 completed lease transactions during the quarter," JLL reported. "This surge in deal activity in 2019 points to a healthy local ecosystem that continues to cultivate new startup companies as well as produce formidable growth among mid-tier companies."
Looking past the pandemic, Burkemper of Harrison Street was optimistic.
"San Diego is a solid, growing market backed by solid demographic trends and we look forward to identifying additional attractive investment opportunities in the region," Burkemper said.