Bumble Bee Foods Rebrands to Meet Consumer Needs
Thursday, April 16, 2020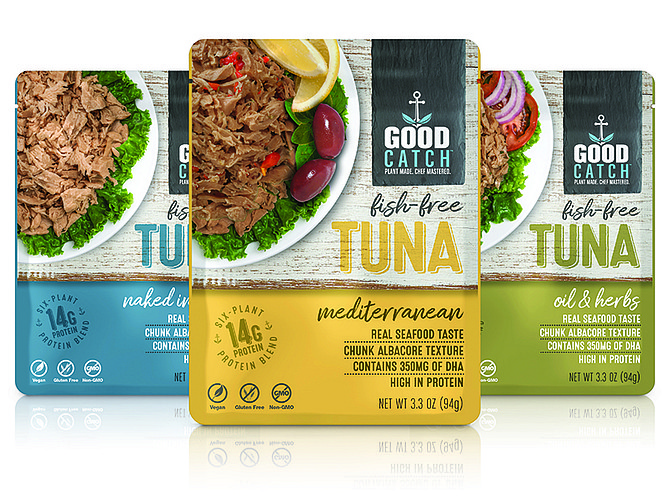 With a new owner, and a new company culture and strategy, Bumble Bee Foods, LLC, dba Bumble Bee Seafood Co. has donated $1.2 million worth of its shelf-stable seafood products to Feeding America – a quarter of which will go to Feeding San Diego – in response to COVID-19. The company, which nearly doubled its normal sales in March as a result of the coronavirus lockdown, also allotted $1.2 million in increased hourly wages for its factory workers, who continue to work during the crisis to ensure everyone has access to Bumble Bee products.
Just a few weeks before that, the San Diego-based company, founded in 1889, announced a joint distribution venture with Ohio-headquartered, plant-based seafood brand Good Catch (owned by Gathered Foods Corp.). The partnership makes Bumble Bee the first and only major seafood company to partner with a plant-based seafood brand, according to the company. And, earlier this year, after filing for bankruptcy in November, Taiwanese supply chain service provider FCF Co. acquired Bumble Bee Foods for $928 million.
These are just some of the many growth strategies the $1 billion company with 120 local employees (330 in California and 1,200 worldwide) has had in the works lately, according to CEO Jan Tharp, all in effort to move past its turbulent past, revamp the brand and meet ever-changing consumer needs.
Planting Seeds of Growth
"While dealing with filing for bankruptcy and then being sold, we had a parallel path of planting seeds of growth, and that is what you are seeing sprout today," said Tharp, who has been with the company 10 years. "Over that last 18 months or so, we've been actively talking about writing the future chapters of Bumble Bee. We reestablished our culture, our values, our go-to-market strategy and what we want to be. Historically, we've been looked at as a commodity shelf stable seafood company with an immense history to draw from. But what we want to do is pivot into a company that has more consumer relevance and hits on consumer trends of snacking."
To do so, Bumble Bee started by hiring an innovative and design company, San Diego-based Bulldog Drummond, and eliminating roughly 20 positions that allowed it to hire more marketing and consumer-focused personnel, said Tharp. What followed was a lot of market research, said Renee Junge, vice president of corporate brand strategy and communications at Bumble Bee Foods, to get input from consumers about packaging, product and design.
What they found was that Bumble Bee already offers a product that consumers are looking for – its canned tuna is high in protein, affordable, low in fat and high in omegas, she said. The problem was that the 120-year-old company wasn't delivering the product the way shoppers wanted, said Junge. It was, in essence, old in its presentation.
"We needed to modernize our overall look, simplify the messaging and our package form needed to be enhanced," Junge said was the overall consensus.
Innovative Products
With the feedback in mind, Bumble Bee launched a handful of new, innovative products, said Junge. First, through the distribution deal with Good Catch, it dropped the Good Catch Plant-Based Tuna offering, which uses six legume blends and comes in three flavors: Naked in Water, Mediterranean and Oil & Herbs. The company also released Wild Caught Tuna pouches in nine flavors, including spicy Thai chili, lemon & pepper and chipotle; Bistro Bowls, with 11 grams of protein and under 200 calories; 3.5 ounce Protein on the Run options, in olive oil and either zesty lemon, black pepper or sweet jalapeno; and its Infused Tuna, which comes in three flavors and features a can with a clear lid, for more transparency, said Junge.
Expanding on the packaging end, Junge said Bumble Bee has retired its mascot, Horatio, and now features a cleaner, sleeker logo. It has adopted a new tagline: "well for life", to remind folks that canned tuna remains a healthy food option, she said.
Tharp said it was this very notion that got her and the rest of the Bumble Bee team thinking 18 months ago, at the start of this company-wide morphosis, about the direction it should go in. She said she knew canned tuna was in line with what today's consumer is looking for because of its health claims, but somehow the shelf stable category had been declining each year for the last decade or so. While the shelf stable category was on the decline, Tharp said she noticed the plant-based food category had grown by 30% the last two years. And that's what led the company to reach out to Good Catch, the plant-based seafood company.
Good Catch
"We were expanding our perspective on seafood beyond ocean caught fish," said Junge. "When you think about it, the world population is growing and the demand for seafood is growing, but there is no one answer to that. Our view is that we need to embrace anything and everything that helps deliver great tasting seafood to the market, even if it is plant-based or cultivated. This isn't just innovation for us, it is a sustainability platform."
Reinvention
Miro Copic, marketing professor at San Diego State University, said the reinvention path is the right one for Bumble Bee Foods.
"It's the only path they have," he said. "The important thing is that they've expanded their range of products they offer and have really focused on different packaging and flavors… having something that adds pizzazz to tuna is a good thing. Also, being sustainable and now having a plant-based offering gives them a constructive direction going forward. This will resonate well with Millennials and Gen Z, who care about their health and are also on the go. Being innovative in the packaging and using space to communicate its new messaging will help people connect and resonate in a much more compelling way than their current product line. The whole rebrand will elevate and separate them from the past."
Chris Kerr, co-founder and CEO of Gathered Foods Corp., which owns the Good Catch plant-based seafood brand, said the relationship with Bumble Bee Foods is beneficial for both parties involved.
"They don't own us and we don't own them, but the partnership gives us much needed distribution and they needed us as an offering in their portfolio as more consumers look for plant-based options," he said. "We watched other industries in this space participate in the plant-based side. Dean Foods… invested in… Silk. That changed the industry and helped them meet consumer demand. Beyond Meat had Tyson Foods invest in them. It allowed them to serve consumers who didn't care for meat but were looking for protein. The thesis around seafood is similar – we kept thinking, 'wouldn't it be great if a seafood company would back this?' So, when they sought us out, we were delighted to get the phone call. It shows some forward thinking on their part."
Forward-Looking
That is the message Tharp wants to drive home: Bumble Bee is forward-looking, not stuck on its troubled past, which also includes pleading guilty for its role in a price-fixing scheme four years ago, for which it paid a $25 million criminal fine. Not to mention criticism the fishing industry has received overall, for accidentally netting other marine life, as well as reported human rights violations along its supply chain.
"We call that period our 'choppy water period' – the days were a little bit dark," she said. "But it gave us an opportunity to really leverage it. We read what was in the newspaper and saw what was going on in the company and it was a huge disconnect. Because of that disconnect, we came together, grabbed a group of cross functional leaders in the organization, hired an outside company and really started to develop our core values. That is what we use as we move forward, to be the guiding principles of the company."