Alphatec Expands Its Operations
Wednesday, April 15, 2020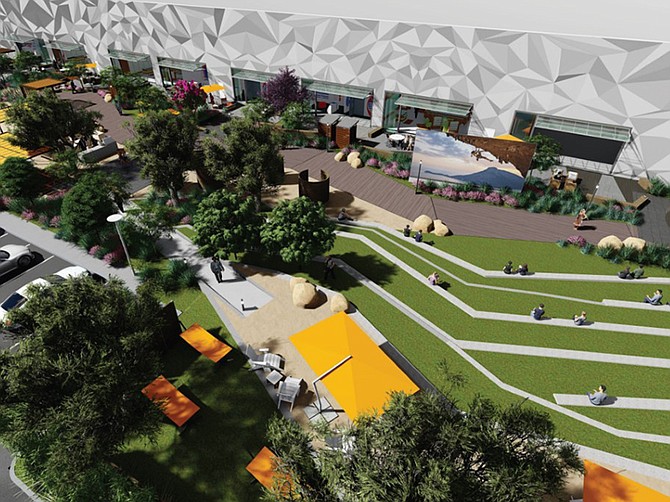 A Carlsbad company that makes spinal surgery devices and trains surgeons in how to use them has leased and is completely renovating a 121,541 square foot building.
The remodel by Alphatec Spine, Inc. (ATEC) will include construction of a cadaveric lab with surgical stations where doctors can practice using ATEC products on cadavers.
"We will have a seven-station operating room for surgeons to train on special surgical techniques," said Patrick Miles, ATEC chairman and CEO. "What we try to do is replicate the very environment that they're working in so when they use our implants, it won't be their first experience working with implants."
The renovated building also will have a mechanical lab for testing and perfecting ATEC's products, a display area and a distribution center.
"We will test the mechanical performance of the implants in a mechanical way that will mechanically recreate how they behave in the body," Miles said.
Miles said it was difficult to say if the COVID-19 pandemic would cause any delays in the project.
"It just creates some headwinds. It's one of those things where it's just you go through. Our plan right now is to move in in November. Hopefully, that doesn't get pushed back. We're just trying to stay on track," Miles said. "How cool would it be to come out of this pandemic and then several months later, move into a new facility? I think culturally, for a company, that creates a lot of momentum."
Nearly Doubling Its Size
In making the move to 1950 Camino Vida Roble, ATEC is nearly doubling the size of its operations.
The company is moving from a 76,000 square-foot nearby building on El Camino Real.
"This is a very specialized property that we were looking for," said Robert McGriff, corporate managing director of Savills.
McGriff, Mike Labelle and Bridget Garwitz of Savills represented ATEC in negotiating a 10-year lease of the building with RPG, formerly RAF Pacifica.
RPG was represented by Aric Starck of Cushman & Wakefield.
SCA Architecture, BYCOR and Next Level Project Management provided design, construction and project management services.
Bursting at The Seams
"This is a corporate headquarters type of building that we were looking for but there's also a warehouse distribution element to the property," McGriff said. "In the size range that we were looking for there's limited supply. We looked at everything that was a close fit."
Along with larger space, the rapidly growing ATEC will be expanding its staff of 210, although Michael Dendinger, the company's vice president of operations, was reluctant to estimate how many employees would be added.
"The full capacity in the new building is more than twice the head count that we have now, " Dendinger said. "We're bursting at the seams. The (new) building really couldn't soon enough."
Company revenue has gone from $91.7 million in 2018 to $113.4 million in 2019, Dendinger said.
"It's dramatic growth. About 24 percent of its primarily all about launching new product and revitalizing our sales channel," Dendinger said. "We launched 12 new products last year."
To convert the new building to accommodate it growth, ATEC pretty much gutted the interior and started from scratch.
"Today, it's just a concrete shell and the interior is 100 percent down to where there's nothing to it but concrete floors right now," Dendinger said. "We're going from the ground up construction on the inside."
Open Work Environment
The renovated space will provide what Dendinger described as "a very open work environment" with 32-foot exposed ceilings, sky lights and 10 garage doors that open to the outdoors.
There will be a 15,000 square-foot loft at the front of the building overlooking the rest of the interior.
"From the loft, you'll be able to see through the building," Dendinger said, adding that photovoltaic solar arrays are designed to provide nearly all of the new building's electricity.
At the heart of the renovated structure is the cadaveric lab that Dendinger said could easily accommodate up to 25 surgeons.
It will replace a smaller, three-station lab the company has at its current location.
Besides being too small for the growing company, Dendinger said the old location made it difficult to collaborate because work groups were isolated and separated by "a bunch of internal hallways."
Miles said he hopes to turn the building that ATEC is renovating into the kind of life science campus that has become commonplace in the San Francisco Bay area.
"The San Francisco Bay area has done such a great job of creating a cultural environment where the young people have less of a barrier between their professional and personal existence," Miles said. "I want to create a fluidity where that environment is accommodated."
That's where the amenities come in.
Outdoor Amenities
"The outside amenities that are planned for this property will be some of the best that I've seen in San Diego," McGriff said.
Among other things, the site will include outdoor showers, surfboard racks, bicycle storage areas, and a bocce ball court.
Existing outdoor amenities will be rebuilt to include a fire pit and barbecue, sports court, an amphitheater and a meeting area with a big-screen television.
"The outdoor amenity space was huge for us,"Dendinger said. "Because we're so focused on product development, one of the big focuses is being able to attract and retain top talent. With so many great companies, especially in North County, we really want to make sure our employees have a great space to work in and it's very collaborative."
Employee Base is Close
ATEC chose to stay in Carlsbad because "a large percentage of our employee base is close," Dendinger said. "It's nice for everybody that we're moving (elsewhere) and it won't impact anyone's commute."
The nearby McClellan-Palomar Airport was also an incentive to stay.
Once the COVID-19 pandemic ends, "We'll be able to use Palomar Airport in the future for getting visitors to and from our office here," Dendinger said.
San Diego County in general is attractive to AEC because "San Diego houses man of the best and brightest spine surgeons," Miles said. "It's just phenomenal."