Spa Girl Cocktails' 'Quarantini' Caters To Women During Lockdown
Tuesday, April 14, 2020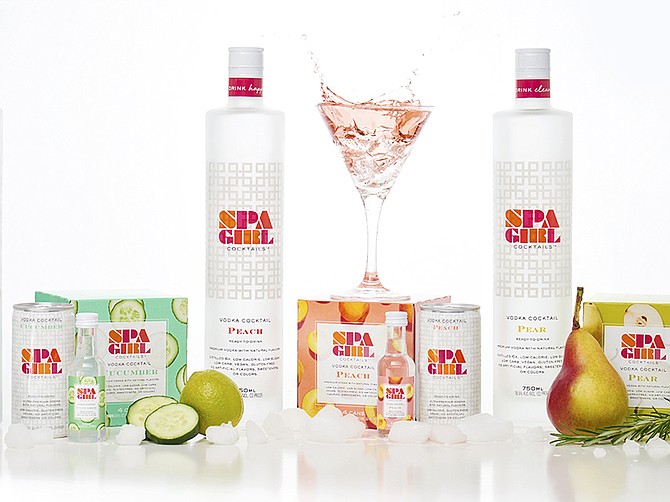 Alisa Beyer, CEO of Del Mar-headquartered Spa Girl Cocktails Inc., is making sure her consumers have access to her ready-to-drink vodka mixes while practicing shelter-at-home.
On April 2, after getting hundreds of requests from customers via social media asking her to ship directly to them, Beyer partnered with Wineglobe.com and began selling three different "Quarantini" special packages, specifically created for during the COVID-19 lockdown. The promotion, ranging in price from $21.99 to $99, includes either one or six Spa Girl 750ML bottles in either pear or cucumber or both, a 50ML bottle of its latest peach flavor, craft cocktail recipe cards and two branded shot glasses.
Over 200 Cases
So far, according to Michael Cornell, director of marketing and strategic relationships at WineGlobe.com, the online store has sold over 200 cases of Spa Girl product. The target is 500 cases a month, Beyer said, and that it is looking achievable for the company, which is forecast to make $3.5 million in revenue its first year in business.
"When we got hit with COVID-19, one of the things we realized is people are going into grocery stores, but in this crisis, they are probably not buying as much liquor physically," said Beyer, who acquired the 2016-founded company in October for an undisclosed amount. "We were inundated with messages on social media as coronavirus took more effect, and it became more and more obvious that we needed to figure out how to get the product to consumers. What we decided to do is partner with wineglobe.com to figure out how to get the product to women in their homes. We went live (on April 2) and sold out more than three times."
33 Proof
Beyer, who said the Spa Girl target audience is women from the age of 28 to early 50s, said the appeal of the product is that it is 33 proof, gluten free, vegan, low sugar, low calorie and low carb. She said the Spa Girl is health conscious and watches her weight but still wants to drink something that is clean and doesn't have all the sugar and caloric count of wine. Beyer said the brand currently sells in 349 grocery stores, including Albertsons, Vons, Pavilions, Bristol Farms and Lazy Acres Market in California, Nevada and Arizona, with plans of selling 30,000 cases this year.
"We sold over 3,000 cases in just November and December alone," said Beyer, who is a serial entrepreneur and has built and sold five companies prior to Spa Girl. "We are continuing to grow, opening Whole Foods store this month and soon Costco locations as well."
Canned Cocktails
Next for Spa Girl Cocktails is getting its recently release 200ML canned cocktails, also available in three flavors, in retailers and on wineglobe.com, said Beyer. Early projection is that it will sell over 1,000 cases a month, she said. Beyer also said Spa Girl Cocktails is in talks with Target, which has expressed interest in the canned product, and hopes to expand to more national retailers this year.
But for now, the goal is to quench the thirst of those stuck at home as a result of the coronavirus crisis.
"I'm home, I'm married, my husband is home, my kids are home, I'm doing more cooking, more laundry and, oh, by the way, I'm still working," said Beyer of her typical customer these days. "They are asking for something quick and easy, because they don't have time to handcraft a specialty cocktail."