Pentagon Orders New Lot of F-35s; Deal Includes $94M for San Diego Area
Tuesday, April 14, 2020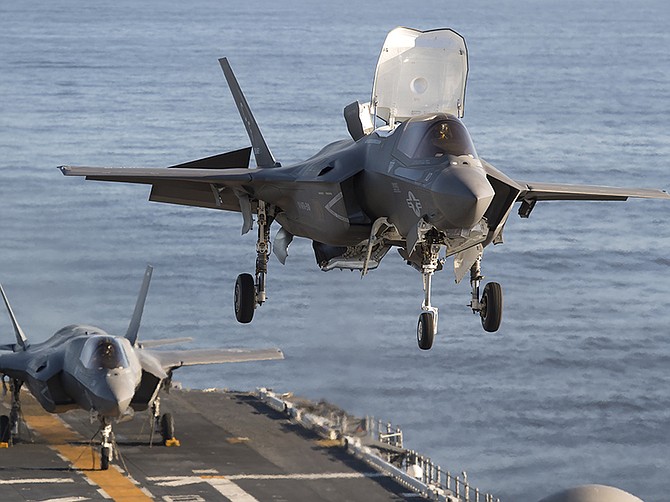 The following are selected defense contracts awarded to San Diego County companies in March and April. The U.S. Department of Defense releases a digest of contract awards daily at 5 p.m. Eastern Daylight Time.
A small portion of the work under the Pentagon's latest order for F-35 aircraft will flow to San Diego. Work allotted to San Diego under the contract modification amounts to approximately $94 million, or about 2 percent of the total.
The entire deal is worth $4.7 billion and was awarded to Lockheed Martin Corp. Under it, the Pentagon will buy 78 aircraft. The aircraft include 48 conventional F-35A models for the U.S. Air Force, 14 F-35Bs for the U.S. Marine Corps (aircraft specially equipped for short takeoffs and vertical landings) and 16 F-35C aircraft for the U.S. Navy (which are built with modifications letting them land on aircraft carriers). The Naval Air Systems Command at Patuxent River, Maryland awarded the deal, announced on March 31.
About two-thirds of the contract will be executed in Fort Worth, Texas, where Lockheed Martin assembles the aircraft. Like San Diego, multiple cities get small parts of the remainder.
San Diego defense contractors making specialized electronic systems for the F-35 include Cubic Corp. and Northrop Grumman Corp.
In a separate contract announced March 31, Lockheed Martin received a $22.9 million foreign military sales contract on behalf of Belgium, which will become part of the group of countries that will fly the F-35. Belgium has agreed to spend $5.1 billion for the procurement of the F-35 system, and a very small fraction of that sum will flow to San Diego.
Northrop Grumman Gets $64.3M Deal
The U.S. Navy awarded Northrop Grumman Corp. a $64.3 million contract modification, exercising options to buy operations services and maintenance services. These services will be in support of the Broad Area Maritime Surveillance (BAMS) demonstrator program. BAMS is an unmanned aircraft. The BAMS program put Northrop Grumman's unmanned Global Hawk surveillance aircraft to work in a marine environment. Services provided under the program include logistics and sustaining engineering support. Some 5% of the work will be performed in Rancho Bernardo, where Northrop Grumman bases its unmanned aircraft programs. Some 25% will be performed in undisclosed forward operating locations, and the rest in Maryland. Work will run through June 2021. The Naval Air Systems Command of Patuxent River, Maryland awarded the deal, announced on March 31.
$61M Paint Facility to Rise in Coronado
The RQ-DPR Joint Venture, based in Carlsbad, was awarded a $61 million contract for the design and construction of an aircraft paint complex at Fleet Readiness Center Southwest. The center is on the grounds of Naval Base Coronado; it is a destination for Navy aircraft going through major repairs and rebuildings. Under the deal, the joint venture will build two new structures with high bays, a new wash rack and a heat resistant aircraft access ramp. Work is expected to be complete by November 2023. The contract was competitively procured on a Defense Department website and received four proposals. The Naval Facilities Engineering Command Southwest of San Diego awarded the deal, announced on March 31.
Straub Receives $48M Contract
Straub Construction Inc. of Fallbrook received a $48 million fixed-price contract for a U.S. Border Patrol station to be built in the East County settlement of Dulzura. The U.S. Army Corps of Engineers in Los Angeles awarded the contract. The Army received three bids for the project, announcing the winning bidder on April 2.
Cubic to Provide MQ-25 Electronics
A small percentage of a U.S. Navy contract modification awarded to Boeing Co. will be performed in San Diego by Cubic Corp.
The Navy has called on Boeing to build three MQ-25 aerial refueling drones. The initial copies (called system demonstration test articles) are part of the Navy's plan to fly fleets of unmanned aerial refueling drones off of aircraft carriers. This will free up other manned aircraft for fighter and attack roles. The total contract is $84.7 million, putting the value of the San Diego work (roughly 1%) in the range of $800,000.
Cubic is supplying the Wideband Satellite Communications (SATCOM) modem system and Line-of-Sight (LOS) Common Data Link (CDL) system to the aircraft.
The Naval Air Systems Command of Patuxent River, Maryland awarded the deal, announced on April 2.