Company Sees Mask Manufacturing as a Way to Help People and Heal the Economy
Tuesday, April 14, 2020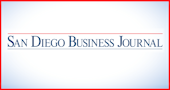 A San Diego-based health innovation company, which manufactures fitness trackers, announced that it has shifted its manufacturing focus to produce N95 equivalent protective face masks, which are hand-washable and non-disposable, to help in the effort to stop the spread of the coronavirus.
"We make both the fitness tracker and the protective face masks at our manufacturing facility in San Diego," said Dr. Ron Gertsch, CEO of OxyStrap, which makes a fitness device that measures 02 saturation, body temperature and heart rate.
The company said its masks "will be distributed to health care workers, law enforcement, food handlers, and the general public. Protective face masks must be properly manufactured with an effective microbiological organism barrier and also properly used to be effective against the spread of infection. Simple quick-guide instructions for proper usage will be included with the company's masks."
The masks cost $14.50 with a price reduction for large orders. "The OxyStrap protective masks are being produced and sold at our cost," Gertsch said. "The shift to stop the production of our fitness trackers and start the production of face masks took some additional quick R&D efforts but we made it a top priority."
OxyStrap sees mask production as a measure to help get the economy open again. "Our company, just like all other businesses in this country, has been severely adversely impacted by the shutdown of the economy and that's why we are trying to do whatever we can to quickly reopen all the economy both safely and as quickly as possible," Gertsch said. "We are confident that providing a plentiful supply of the type of mask that we are producing is the missing link to make that happen."
The company has been in business for 5 years but most of that time was spent in doing R&D for the OxyStrap fitness tracker which will be launching soon on Kickstarter.
OxyStrap has 28 employees.