Kitchens for Good Continues Operation During Pandemic
Monday, April 13, 2020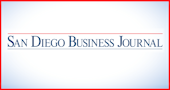 Kitchens for Good, a nonprofit organization based in San Diego, has continued to help the community throughout the COVID-19 pandemic.
Since the start of its emergency response, according to a press release, Kitchens for Good has prepared 17,167 meals for families, seniors and displaced workers. Heat-and-eat meals are being distributed in partnership with the San Diego Food Bank and through Kitchens for Good own grab-and-go-meal distribution. The latter has served more than 2,500 individuals last week, as per the press release.
Kitchens for Good has also launched a virtual program through which is hosts life skills and career development classes. Next week, Kitchens for Good will begin providing its online apprentices weekly culinary kits filled with ingredients, recipes and lessons that will be delivered to their doors, according to the press release.
Lastly, on April 16th from 5:30pm to 6:30pm, Kitchens for Good will host a free virtual dinner party and cooking class where chefs like Sam The Cooking Guy, Tommy "The Fishmonger" and Trevor Bowles from Maker's Mark will teach viewers how to create meals using common pantry ingredients. Participants must register here.
Travel & Hospitality reporter Mariel Concepcion can be reached at mconcepcion@sdbj.com or 858-634-4625.