Valley Center Co. Keeps Blooming During Pandemic
Sunday, April 12, 2020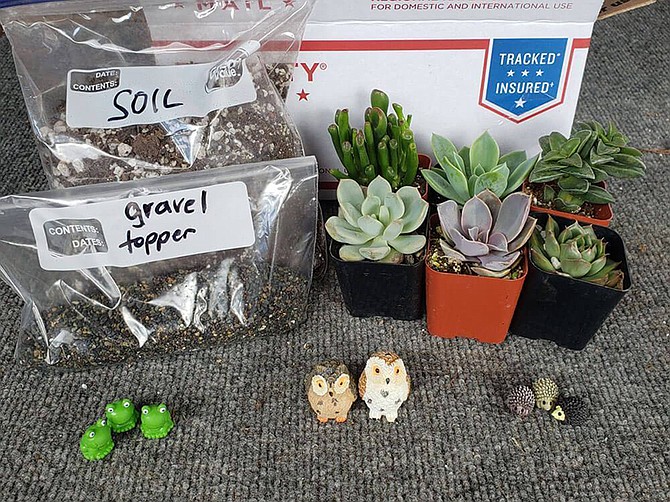 In the time of COVID-19, The Succulent Source, a Valley Center-based company, wants consumers to consider an indoor plant as a way to connect with nature without stepping outside.
Founded in 2010, The Succulent Source has launched a $28 DIY Kit that includes six succulents, a pot, soil, gravel topper and a garden accessory like an owl, a hedgehog, a frog or mushroom, shipped right to customers' doorsteps. So far, the six employee company, with revenue growth of up to 28% year-over-year, has sold roughly 150 kits since launching the product mid-March in response to the coronavirus lockdown.
$25,000 Refunded
"We went into a complete halt for the first two weeks (when coronavirus hit) – we had to refund $25,000 in orders of events that were cancelled, so, that was hard," said Lora Irwin, mother of five and owner of The Succulent Source. "Unfortunately, March and April are the months that carry us through the year… We are used to having maybe $10,000 days gross… We asked ourselves, 'what can we do to continue to have sales?' And that's when we created the DIY kit for people that are stuck at home."
Irwin, who funded and started the company with her husband, Darren Irwin, said she immediately blasted out an email campaign to nearly 10,000 people to promote the four different DIY kits, which sell on the company's site. She said she created the kits based on supplies she already had at home and that succulents are extremely low maintenance – "the more you forget about them, the happier they are," she said. Irwin also said she always wanted to introduce a DIY kit as part of The Succulent Source's product line, but never got around to doing so until now.
Resell
The Irwins launched The Succulent Source after Darren Irwin, then a special education teacher, began selling plants he'd buy at garage sales or from local growers on eBay for fun. Inspired by the ability to resell for a significant larger amount than the purchase price – sometimes a $5 plant would sell for $100 on the site, said Irwin – the two decided to go all in in 2010. Lora Irwin quit her part-time job as an occupational therapist and, using money from their own personal savings, launched an online wholesale succulent company that would cater to events. The duo first started selling on Etsy, and then decided to open their own e-commerce store via their own site, thesucculentsource.com.
While they haven't quite exhausted the events market, Irwin said because there are now so many competitors in the space – about 4,000 compared to roughly four when they started – The Succulent Source is now focusing its efforts on B2B business, she said, adding that it has already landed a couple of accounts, including with some Hyatt hotels and Ritz-Carlton Hotel Company.
Corporate Business
"Last year, we focused a giant majority of our energy getting corporations to buy our products and maybe gift them to their employees, buy them for customers, for onboarding gifts, as a thank you or as a way to say 'thinking of you'," Irwin said, adding that the novel coronavirus has obviously affected those efforts, although she remains hopeful in the future of the business.
"Truly, I feel like we just scratched the surface with providing for large events, trade shows, and restaurants and hotels," she said. "Succulents are a drought tolerant plant and require very little care. There is huge room for growth still… We've always grown organically. Now, we are putting money into the business and growing that way."