Actions Speak Loudly
Sunday, April 12, 2020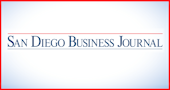 The show of unity by thousands of San Diegans honking their horns and cheering appreciation to doctors, nurses and healthcare workers from their cars and the windows of their homes on World Health Day last week says so much about who we are and how incredible this community is.
Our hearts are big and it shows.
•••
If you have read these pages or our website over the past several weeks you know businesses are jumping in and meeting so many different needs. Organizations are stepping up to help people and businesses. Businesses are moving forward and helping in unique ways. Cox Media, the advertising sales division of Cox Communications, is one of them. They are targeting hard hit San Diego County restaurants with an offer of free advertising during the pandemic. Cox wants the restaurants to be able to let their customers know that they are open for delivery and takeout services. Cox says the free advertising will include graphical information about each restaurant so no video footage is required. The advertising will run for a minimum of two weeks for each restaurant. There is a limited amount of airtime so they say restaurants should call 1-855-755-2691 to reserve a spot as soon as possible.
"As our community is impacted by this pandemic, it's important for us to support local businesses, and one way we can do that is to provide free television advertising," said Leslie Talansky, vice president of Cox Media in San Diego.
•••
Mission Federal Credit Union has announced it is working to support efforts to keep people fed during these tough times by partnering with the San Diego Food Bank to offer dollar-for-dollar matching donations up to $50,000. For every $1 donated five meals can be provided. More information is available on their website at missionfed.com/GivingBack.
"Mission Fed's definition of success includes our employees, members and the extended San Diego community. Food insufficiency in San Diego is always intolerable and that is true now more than ever. The Mission Fed $50K matching grant to the San Diego Foodbank has already raised over $135,000. We need to support our local organizations and we implore all businesses to help with addressing this pressing need for our fellow San Diegans," said Debra Schwartz, president and CEO.

•••
The San Diego Regional Chamber of Commerce is opening its April 15 Small Business and Education & Roundtable policy committee meeting to all. The chamber has announced that this month's virtual meeting will cover federal, state, and local resources available to small businesses and nonprofits to help address the challenges of COVID-19. Presenters will include U.S. Rep. Scott Peters, Neil Bradley, chief policy officer of the U.S. Chamber of Commerce, and Danny Fitzgerald, associate regional director of the San Diego and Imperial Small Business Development Center. More information and registration details may be found on the chamber's website: sdchamber.org.
•••
Even with so many unknowns, a large number of companies are continuing to hire people as they focus on the long term. This presents an opportunity for those who may have lost their jobs as a result of the pandemic. There is a list available online of companies that are hiring in San Diego. It is the result of a collaboration between Startup San Diego, San Diego Connect and SD Life. Changing. If your company is also hiring, you can add it to this list in less than a minute. The list may be found at sandiegolifechanging.org/hiring-in-san-diego.

•••
There is no such thing as not being able to do something in times like these. With so much going on, the San Diego business community is proving that it not only cares, but it doesn't hesitate to put action behind those words.