San Diego Regional Chamber Offers Legislative Update for April 9, 2020
Thursday, April 9, 2020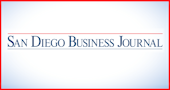 The following was issued April 9 by the San Diego Regional Chamber of Commerce:
Officials at the local, state, and federal level are working quickly to address and respond to the challenges presented by COVID-19. As an advocate for the region's businesses, the San Diego Regional Chamber of Commerce is in contact with our officials and working directly to ensure San Diego's voice is heard on these issues.
In an effort to keep Chamber members informed on the rapidly changing legislation and the impacts it has on business, the Chamber's Policy and International Business Affairs teams monitor legislation and compile this weekly update each Thursday to provide our business community with the relevant information.
I hope that by sharing this information with the community at large we can all be better informed to make the decisions now that will aid in our business community's recovery and resiliency.
Jerry Sanders
President & CEO
San Diego Regional Chamber of Commerce
Federal:

The CARES Package created the Paycheck Protection Program (PPP) Loan allocating $350 billion to help small businesses keep workers employed amid the pandemic and economic downturn. The PPP initiative provides 100% federally guaranteed loans to small businesses. The PPP loan officially rolled out last Friday and the response has been overwhelming. It's clear that the $350 billion will not be enough. Treasury Secretary Mnuchin requested Congress approve an additional $250 billion for the PPP. If Democrats and Republicans agree, a vote could happen late next week. Background here.
The U.S. Department of Health and Human Services (HHS) is expected to delay enforcement of two new rules addressing interoperability and patient access to health data. HHS announced the finalized rules on March 9, 2020, however, due to the health care industry's focus on addressing the COVID-19 pandemic, Politico reports many stakeholders are expressing concern over the ability to comply.
International:
The Mexican federal government declared a national health emergency and suspended all non-essential activities effective immediately until April 30. You can find the list of essential activities here (Spanish), and here (English).
Federal Labor Law dictates that employees are entitled to 30 days of salary during a health contingency.
On April 2, the Canadian federal government issued guidance on essential services during the COVID-19 pandemic. Canadian essential services include manufacturing, energy, information and communication technology, health, food and transportation. Additionally, a number of Canadian provinces have released their own essential critical infrastructure guidance.
U.S. Customs and Border Protection officials announced changes to hours of operation at select land ports of entry along the California/Mexico border. Updated hours of operations come in response to decreased traffic volumes due to COVID-19 and restrictions against nonessential travel. There is no impact on cross-border activities that support trade, security, commerce, supply chain, and other essential operations. Changes include:
• San Ysidro Port of Entry: all pedestrian processing will now take place at PedEast.
• Tecate Port of Entry: new hours of operation for vehicle and pedestrian traffic from 5:00 a.m. to 2:00 p.m.
• Calexico Port of Entry: new hours of operation for the Calexico East crossing for both pedestrians and vehicles from 6:00 a.m. to 10:00 p.m.
• Andrade Port of Entry: new hours of operation implemented for both pedestrians and vehicles from 6:00 a.m. to 2:00 p.m.
State:
The Assembly Committee on the Budget issued this memo which previews adjusted expectations for state revenues, the budget process, and timelines. You'll recall the state anticipated adopting a "workload" budget which will be a streamlined financial plan and is expected to reconvene for an "August Revise" to reevaluate longer-term strategies around budgetary planning. The memo does reference possible cuts and the dramatic change in financial situation from the January proposal to today's reality.
Governor Newsom issued an Executive Order pertaining to child care regulations and prioritization of children for essential workers.
The Legislative Analyst's Office has updated its COVID-19: Federal Health Related Response analysis, which reviews key federal actions, funding implications and expectations.
State Treasurer Betty Yee has produced this Personal Income Tax Daily Revenue tracker.
The California Judicial Council has also adopted Emergency Rules 1-5, which provides additional guidance for local judges on evictions processes from the Court perspective.
The state has been issuing unemployment payments, however, those payments are beginning to be delayed for some as the backlog due to record numbers of applications are received. If you cannot get through to the Employment Development Department (EDD), it is recommended you contact your Assembly or State Senate office for guidance. Additionally, until the federal Department of Labor issues specific guidance, it is unlikely expanded eligibility (for freelancers, for example) will result in applicants being approved and receiving benefits.
Local:
On Thursday, April 2, San Diego County (County) issued new amendments to the Public Health Order that can be viewed here and are outlined below:
• Effective April 3rd at 12:00 a.m., the Public Health Officer recommends public compliance with the state's guidance on facial coverings in addition to complying with the Governor's Executive Order.
• Effective April 4th at 12:00 a.m., workers who interact regularly with the public at businesses such as, grocery stores, pharmacies/drug stores, gas stations, convenience stores, restaurants and other businesses that serve food, are required to wear face masks.
• Effective April 7th at 12:00 a.m., all essential businesses that remain in operation are required to publicly post their protocols and procedures for social distancing and sanitation within their establishments. Employees must also receive a copy of the "Social Distancing and Sanitation Protocol". The County has provided this fillable form that can be used to fulfill this requirement.
• Effective April 3rd at 12:00 a.m., the County now requires the closure of parking lots at public parks, beaches, and recreational facilities. Walking, hiking, or equestrian activities are allowed, however group activities like volleyball or basketball, etc. are prohibited. We encourage you to monitor and comply with your specific city's regulations.
On Wednesday, April 8, the County announced another amendment to the Public Health Order, prohibiting gatherings of any kind. Gatherings of 10 people or fewer are prohibited unless people live in the same household. Details are outlined in Section 17b of the Public Health Order.

This week, MTS announced a 25% reduction in service beginning Monday, April 13. While MTS has pledged to keep some level of service on all routes, we encourage riders to check the schedule before trips.
Similar to local cities, the County is reviewing budgetary impacts of the coronavirus. Of note, the County's budget process will not begin until July, which is a delay from its traditional schedule.
San Diego City Council will be meeting next on Tuesday, April 14, 2020. Agenda and guidance for providing comments can be found here.
The City of Poway will be exploring a small business loan program and has adopted a moratorium on commercial evictions.
Today, April 9, the County Board of Supervisors held a special meeting at 4 p.m. Due to the Governor's Executive Order, in-person attendance was prohibited. The agenda and supporting documents are here.