Artisanal Food Businesses Get Crafty
Thursday, April 9, 2020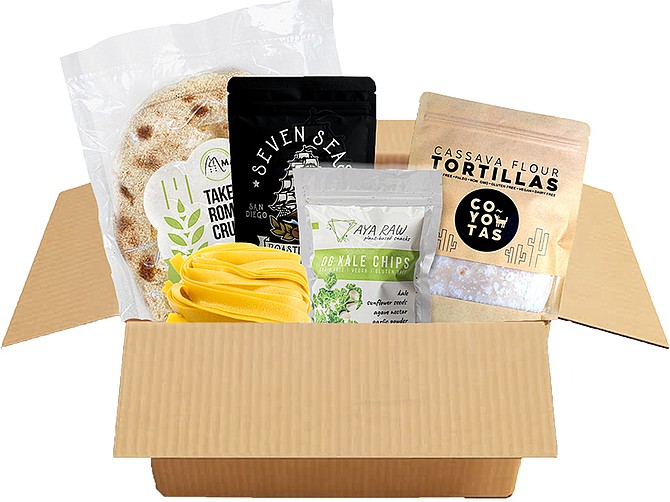 When COVID-19 threatened to dramatically slow down – and potentially put an end to – their artisanal food business, Dalila Ercolani and husband and business partner Marco Maestoso quickly thought up a solution. In March, the duo launched Craft Box, a subscription box food service that delivers locally made, healthy food items made by small businesses that would otherwise be sold at farmers markets.
Artisanal Food Co-op
Since launching, the co-operative has signed on 10 local vendors and has sold an average of six boxes a day, said Maestoso, including selling 50 boxes its first three days in operation. Its "Mixtery Edition" Box includes a mix of products, including Aya Raw Foods Kale Chips, Ercolani's and Maestoso's Maestoso Foods Take & Bake Roman Pizza Crust, Seven Seas Roasting Co. coffee, Monzu Fresh Pasta, San Diego Tempeh, Coyotas cassava flour tortillas and Surf's Up Salsa, among others San Diego made goods.
"Ever since we started Maestoso Foods, we have been in close contact with other small either family owned or individual owned businesses and we've been among that group of people," said Ercolani. "We work out of Hollister Kitchens (prep kitchen in Chula Vista), where a lot of small producers work out of. When farmers markets started to close… a lot of the people that work close to us were all talking, asking 'what are we gonna do.'… We put our heads together and in thinking of what to do for ourselves, it came naturally. 'Why don't we all get together and help each other?' Marco (Maestoso) and I have natural entrepreneurial spirits so, putting that together with trying to help everyone out including ourselves immediately sparked in our minds."
Proceeds Go to Producers
In mid-March, Ercolani and Maestoso tapped a couple of their vendor friends and launched Craft Box, she said, asking them to donate some of their products so they could start packaging and selling it. Ercolani said she first created a website, craftboxfood.com, on which the boxes sell for $50 each. With the exception of a small percentage to cover delivery, marketing and transaction fee, all proceeds from the sales go back to the producers, said Ercolani. She said in a few days, Craft Box will also launch a market option which will allow customers to custom create their boxes. And, for precaution, Maestoso is the only delivery person, dropping shipments on buyers' doorsteps up and down San Diego County, between Oceanside and Chula Vista, she said.
Ercolani said since launching, she has gotten even more requests from other artisanal food business owners that also want to be part of the program. She said as they add more producers to their lineup, they will be rotating products in the Mixtery boxes.
For the Long Haul
Maestoso said he initially thought this business could at least hold down the farmers market sellers through May, but with the uncertainty of the coronavirus, he said Craft Box might be around much longer than originally anticipated.
"We have the experience of Italy and we know this takes much longer than how it looks," said the native Italian. "So, for the future, I hope the company will get larger. I would love for it to spread to different cities, to get farmers market vendors and all producers to unite and continue to further develop this simple model."