BAE Systems Wins $200 Million Ship Repair Contract
Tuesday, April 7, 2020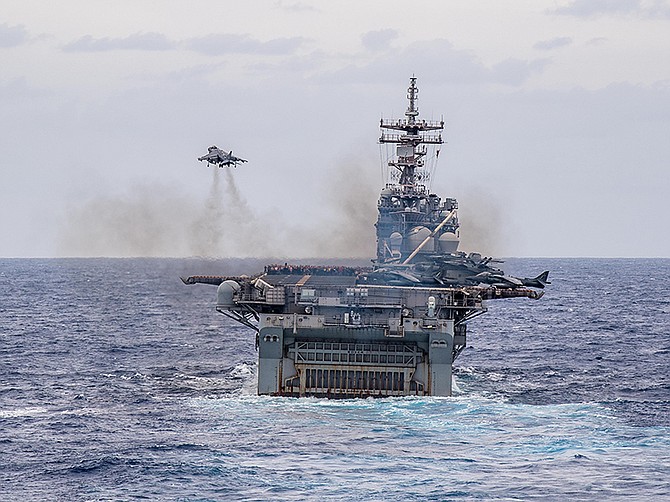 BAE Systems San Diego Ship Repair received a $200.3 million contract for shipyard work on the USS Boxer — specifically maintenance, modernization and repair. The visit will include time in a dry dock.
The Boxer is a Wasp-class amphibious assault ship. The ship has the capacity to carry 1,687 Marines in addition to the ship's officers and crew — plus aircraft.
At 844 feet long with a large, flat deck, the Boxer resembles a small aircraft carrier, though true aircraft carriers stretch almost 1,100 feet in length.
The Boxer can carry the Marine Corps version of the F-35 Lightning fighter, as well as older Harrier jet aircraft and a variety of helicopters.
The ship will go in BAE Systems' new, 950-foot-long floating dry dock, the Pride of California, which can support up to 55,000 long tons. The Boxer is 40,650 long tons. This will be the first time the dry dock has been used for such a large vessel. The Pride of California was built in China and arrived in late 2016 after being towed across the Pacific.
Work under the contract is expected to be complete by December 2021. The contract also contains options; the value of the shipyard deal would rise to $207.5 million if the Navy exercised all of its options.
The deal was competitively procured. The Navy received two bids. NAVSEA, the Naval Sea Systems Command of Washington, D.C. awarded the contract, announced on March 27.
David M. Thomas Jr. is vice president and general manager of the San Diego shipyard. The business employs roughly 1,800 full-time and part-time workers.
The shipyard also tends the futuristic Zumwalt-class destroyers, also known as the DDG 1000 class.
Right now the Pride of California has two destroyers in it, the USS Stethem and the USS Decatur. A third destroyer, the USS Spruance, rests in the older of BAE Systems' dry docks, the Pride of San Diego.
Tied up to the shipyard piers at present are the amphibious transport dock ship USS Anchorage and the cruiser USS Mobile Bay. An unusual, temporary tenant of the shipyard is the Arco, the dry dock that the Navy uses at its submarine base on Point Loma.
Local shipyard work has been on the rise since the U.S. Navy started transferring more of its assets to Pacific ports.
Also participating in shipyard work is General Dynamics NASSCO as well as Titan. The latter company is buying the Barrio Logan shipyard formerly run by Huntington Ingalls Industries.