Longfellow Putting $10M Into Renovations
Monday, April 6, 2020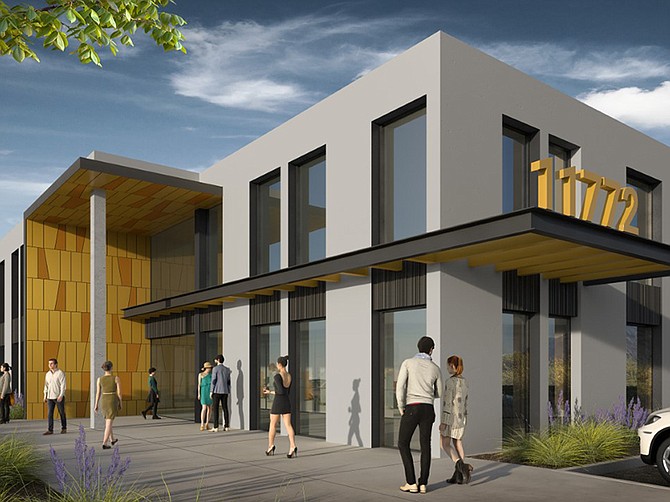 Longfellow Real Estate Partners is consolidating and remodeling its San Diego holdings into a single life science campus, spending more than $10 million on renovations.
Acquired For $154.2 Million in 2019
The Boston-based company in 2019 spent $154.2 million to acquire 17 buildings in Sorrento Valley.
"Construction is well under way and moving forward," said Nick Frasco, Longfellow Real Estate managing director of San Diego and Southern California.
"Really, the goal here with this project was to gather all 17 buildings together in Sorrento Valley and create a real sense of place," Frasco said. "This is a major project for us so we estimate completion is going to probably be closer to the third quarter of 2020."
Moving Forward
So far, the project is proceeding on schedule, but Jessica Brock, a partner with Longfellow Real Estate Partners, said the company is still assessing how the COVID-19 pandemic will affect the renovation and the company's acquisition plans.
"None of us know exactly how the COVID situation is going to unfold. It's definitely going to have an impact and we are looking at what that means for our business. But we do think once we get through this, there will be a lot of opportunities," Brock said
Additional Acquisition
In the short term, Frasco said the company expects to soon announce an additional San Diego acquisition.
"We're currently in the process of acquiring new property in the Sorrento Mesa market and we're constantly looking to add new buildings to our Sorrento Valley portfolio and the other submarkets in San Diego," Frasco said. "We have a long term approach to our portfolio growth in San Diego and across the country. Our goal is to build a large life science portfolio. We're keeping an eye out for new opportunities."
At some point, that could include building some life science projects in San Diego from the ground up in addition to acquiring and renovating existing buildings, Brock said.
"We would absolutely consider new ground-up development in San Diego," Brock said. "We've actually looked at several opportunities in San Diego. We haven't found the perfect one yet."
Longer term, Longfellow Partners is actively seeking property to buy in its two West Coast markets, San Diego and the San Francisco Bay Area, Brock said.
The company's latest acquisition for $26.7 million was Sycamore Research Park at 10655, 10665 and 10675 Sorrento Valley Road.
Entered San Diego Market in 2018
Longfellow Partners entered the San Diego County market in November 2018 when it bought 12 Sorrento Valley industrial buildings from Parallel Capital Partners for $112 million – its first West Coast investment.
In January 2019, the company acquired the two-building Roselle office project for $15.5 million.
"We found the market welcoming and the business climate excellent," Brock said. "We're very bullish on San Diego.
Longfellow bought the Sycamore research park from West Coast Capital Partners and named Newmark Knight Frank as its leasing partner.
Doug Lozier of CBRE represented West Coast Capital in the research park deal.
"We're hitting the ground running, actively leasing space even as we undertake signature Longfellow upgrades," Frasco said.
Taken together, the 17 Sorrento Valley buildings have 443,000 square feet of lab and life science office space.
They are being rebranded as the SOVA Science District – short for Sorrento Valley Science District, Frasco said.
"They're old – 1970s to 1980s, tilt-up, one or two-story structures," Frasco said.
Ideal For Life Science Space
Although dated, Frasco said the buildings had the physical structure and infrastructure that make them ideal for redevelopment into life science space.
Building facades are being redone to give "a new look and feel to each of the buildings," Frasco said.
"We've already redeveloped or repositioned a significant portion of the interior of the project to be life science from existing flex office space," Frasco said. "We'll convert 90 percent of the portfolio to lab. The remainder will be creative office."
In most cases, that involved gutting the buildings and redoing the interiors from scratch.
"Some of those, we're doing on a spec basis so they're ready to go when tenants need them. We were recently seeing the need from a lot of early stage companies and other companies that really need space on a short term basis," Frasco said. "Having those spaces ready to go has really proven successful."
The redevelopment includes adding indoor and outdoor seating areas, outdoor work spaces, a new courtyard and the addition of an on-site brewery.
Longfellow also will schedule a variety of events on the new campus, "not to appeal just to the tenants in our portfolio, but everybody in Sorrento Valley and beyond, the surrounding area," Frasco said.
"We're currently pursuing opportunities to partner with UCSD and other academic institutes in San Diego, Frasco said.