Angels Know Innovation Often Wins in the End
Monday, April 6, 2020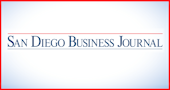 In the wake of a global pandemic that has shaken the public's faith in the economy, Tech Coast Angel's San Diego chapter is working to spread the message of HOPE (Hold On, Pain Ends), to support the startup community during the COVID-19 crisis.
Now more than ever, the entire ecosystem of entrepreneurs, startups, and investors are needed to rise together during this unprecedented period, as it is not business as usual, for anyone.
As the coronavirus outbreak continues to wreak havoc on the greater business community, startups will disproportionately be impacted as many early-stage companies will either lack funding, support or the resources to effectively weather the storm.
Decline in Seed-Stage Funding
Since January, capital from seed-stage funding, often the first significant source of cash for new ventures, has declined by about 22 percent, according to CB Insights, a market-intelligence company.
The company puts total private-market funding for startups at $67 billion in the first quarter, down from an initial forecast of $77 billion.
In spite of the COVID-19 pandemic, Tech Coast Angels and many other investor groups are still open for business. In March alone, the group collectively invested more than $1 million in startups, according to the organization. 
However, deal-making has slowed substantially, as companies weigh what will be needed to survive the coming months.
The San Diego Business Journal interviewed the local investment group, to learn their strategies for weathering this storm, and the support they are offering to the startup community.
What are your thoughts on the broader market?
Ashok Kamal, executive director of TCA San Diego said, "Every company is going to be dealing with macroeconomic challenges. Declines are expected to be especially sharp for startups in hard-hit sectors, such as retail, travel and hospitality. At the same time, we've also seen within our portfolio, a cohort of companies that are surging during the crunch, such as Mercato, which provides e-commerce solutions for independent grocers."
Startups developing capabilities in areas such as telehealth, autonomous delivery, disease diagnosis and virtual learning are likely to fare better, he said.
How are you helping your current portfolio companies?
Kamal said, "We sent a survey to our portfolio companies and compiled a list of reputable resources about government programs and initiatives including loans for venture-backed startups, grants for companies that can help combat COVID-19, tips for startups to survive the crunch. We made the resource folder publicly available on our blog."
As well as, advocating with the National Venture Capital Association, Angel Capital Association and other investors to maximize the scope of benefits offered through the CARES Act.
Chris Carver, founder and CEO of Lennd, a local tech startup said, "I was actually very impressed that right after this pandemic hit us, we got contacted by TCA, they collected information about the help that is out there, survival tips, and they provided a lot of useful information that became extremely critical to us."
What advice are you giving startups?
Curtis Staker, former president of Websense and TCA member said, "Hold On, Pain Ends. To me, the meaning of that is: Persevere. Find a way. Hold on  —  like your hands are on a cliff-hanging for your life — we're going to get through this."
To put things in perspective, General Electric was founded in 1892 when there was a 40 percent economic drop; IBM founded in 1911, faced the same thing; In 2009, Disney had to go through the Great Depression; Google went through the dot-com bubble, among several others. 
"So you got to hold on, the pain ends." Staker said, "If you have good technology, that is wanted or needed by others, then you will get to the other end of it. Those who are working and being prepared for the outcomes are going to thrive. When we come out of this, they are going to be the best and most successful companies."
Thoughts on San Diego's ecosystem post-crisis?
Caitlin Wege president of Tech Coast Angels' San Diego chapter said, "Startups were key to the economic recovery after the great recession of 2008. It is entrepreneurs and nimble thought leaders who don't give up hope that will drive innovation and growth in the coming months and years, effectively replacing lost jobs and birthing new critical technologies."
In order to ensure we can follow that playbook, collaboration, connection and support have never been more important. Fortunately, San Diego has a strong ethos of generosity, supporting each other even in the face of competition, she said.
"The local Startup community has done an excellent job of establishing connections between all stakeholders in the ecosystem and this has helped create an abundance of resources for our fledgling companies," Wege said.
TCA — San Diego said it will continue to be large part of the connections that hold the community together and plans to continue supporting companies and founders through these uncertain times.