TuSimple Partners With Automotive Supplier ZF
Sunday, April 5, 2020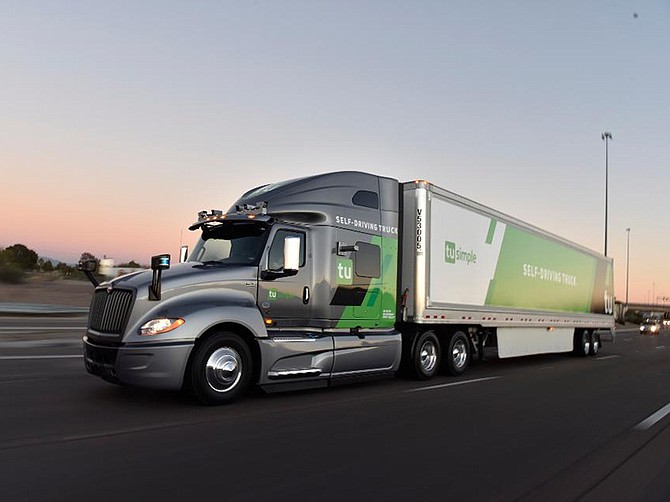 San Diego-based TuSimple, a self-driving technology startup is partnering with automotive supplier ZF to develop and produce autonomous vehicle technology on a commercial scale. The partnership, which plans to begin this month will cover China, Europe and North America. 
Raised $298 Million
Founded in 2015, by founder and Chief Technology Officer of TuSimple Xiaodi Hou, TuSimple has significantly expanded in recent years with its global headcount capping at 650, with 200 local staffers working out of its headquarters in San Diego. 
To date, the company has raised a total of $298 million, with major investments from Chinese technology company Sina Corp. and Beijing-based alternative asset management firm CDH Investments.
TuSimple said it's "laser-focused" working on a full-stack solution that brings together all of the technological pieces required for autonomous driving. In particular, TuSimple is developing a Level 4 system, a designation by SAE International that means the vehicle takes over all of the driving in certain conditions.
The company currently maintains its own fleet of 60 trucks, 40 in the United States and 20 in Shanghai equipped with its technology.
COVID-19
The coronavirus shutdown has temporarily halted test fleets of some of the biggest self-driving tech companies. However, TuSimple is continuing to operate its trucks around the clock, hauling much-needed freight amid a worsening global health crisis.
"In San Diego, we've converted to complete work from home. Everyone's sheltered and safe. In Arizona. We have modified our operations, but we continue to operate," TuSimple chief product officer Chuck Price said. 
TuSimple has said it has more than 18 contracted customers, including logistics giant UPS, Berkshire Hathaway's McLane Foods and the United States Postal Service.
"We've taken special precautions. The vehicles are specially cleaned and wiped down with antiseptic. The driver teams have gloves and masks. We modified schedules so they don't run into other people. And everybody who's non-essential works from home," Price said. 
An essential industry, the traditional freights are still moving goods and are seeing very high demand. "Everything's stressed because people are hoarding right now. Most fleets are stepping up to meet that demand. Some fleets are not. But we continue to operate," Price said.
During these special circumstances, the government has lifted certain restrictions on the driver's time and service. Called the "hours of service,' rule which allow more cargo movement to meet urgent demand.

An Important Milestone
TuSimple said the partnership is an important milestone as the startup prepares to bring autonomous-ready trucks to market. The collaboration will enable the company to combine its self-driving software with ZF's ability to build automotive grade products.
"The combination of ZF automotive system competencies and TuSimple's virtual driver software will create the first commercial-ready automotive-grade autonomous truck technology platform," Torsten Gollewski, ZF's executive vice president of autonomous mobility systems, said in a statement.
By 2021, they expect to conduct the first commercial operations with drivers completely out of the vehicle on public roadways in the Arizona area. Building on that, TuSimple said it intends to have the first available commercially built vehicles manufactured in factories in 2023.
The company said it will be raising additional funds and will be adding a second truck depot, along with more trucks.