Space Micro Wins Air Force Fast Pitch Event
Sunday, April 5, 2020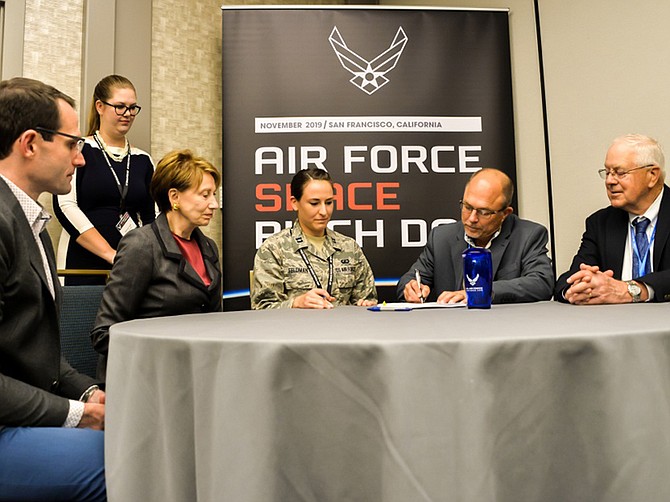 It was "Shark Tank" meets old-fashioned Department of Defense procurement when executives from Space Micro took part in a U.S. Air Force fast pitch funding event in November.
The San Diego business emerged a winner during Space Pitch Day, receiving a contract on the spot to develop a laser communications system.
Defense procurement being what it is, official word of the award did not come to Space Micro until four months later. But that's okay for Dave Strobel, CEO of the privately held company. Once it was 100% official, in March, he told the media.
Space Micro has a two-year deal to develop a way for satellites to transfer information between each other using a laser beam. If all goes well, the business could receive a follow-on contract to get the technology into orbit.
NASA has already achieved laser communications in space, Strobel said. Unlike microwave radio — which is a common way satellites communicate — an adversary won't be able to jam or intercept signals.
Space Micro makes a variety of radiation hardened electronics that go into satellites. It recently moved to bigger quarters in Rancho Bernardo.
Top Air Force leaders met up with businesses for this fast pitch event in San Francisco.
The Air Force Credit Card
The Air Force said it is very serious about fielding the latest technology and staying ahead of adversaries. But there were some lighter moments, and some drama.
Equipped with a 15-slide Power Point presentation, Strobel made his pitch to build a laser communications system before the judges. Then he was asked to wait in the hallway for five minutes. On being called back in, he learned the Air Force planned to back him to the tune of $750,000.
The Air Force was prepared to give him an immediate, initial payment of $50,000. "You can scan our credit card," Strobel was told.
Trouble was, Strobel was not prepared to take a credit card. Then came several minutes when he loaded software from on his smartphone.
After leaving the venue, Strobel's phone kept pinging. It was the Air Force leaders, who told him they wanted to increase the deal to $3 million.
He was elated.
The deal is "pretty significant for us," Strobel said.
A Moon Mission and a Move
Space Micro had $14 million in revenue last year, and it turned a profit. The business expects to double its revenue this year, the CEO said. It is at work on 30 contracts at any one time. In one deal, the company is producing electronics for NASA's upcoming Artemis mission to the moon.
Separately, the business is working on optical communications for an undisclosed commercial company. Here the customer is not so much interested in security as in the high data rate, Strobel said.
The business has also been busy adjusting to new office space. Space Micro recently made the move from Mira Mesa to Rancho Bernardo. The new facility has more square feet, "an awesome clean room," and areas well suited for classified work, Strobel said. And in true San Diego form, it has a brewery as a neighbor.