ResMed Reacts to President's Order, Highlights Need for Component Parts for Ventilator Production
Sunday, April 5, 2020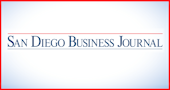 San Diego-based ResMed, a respiratory and sleep disorder solutions company, was one of six companies named in a Defense Production Order issued by President Trump that aims to ramp up ventilator production.
ResMed issued a statement on the president's order:
"ResMed is pleased to see the White House prioritize access to critical ventilator components, enabling not only ResMed but all industry-leading ventilator manufacturers to speed up both production and delivery of lifesaving devices to patients who need them most.
"We encourage automakers, aerospace equipment producers, and other non-ventilation manufacturers to help us source or create more of these components and accessories for ventilators, strengthening the supply chain that all ventilator makers are drawing from to help meet this rising global demand and save lives."
In a recent SDBJ interview, ResMed CEO Mick Farrell said the company was increasing ventilator production 2X to 3X while increasing mask production tenfold.
While discussing the possible surge in California and other states, Farrell said the company was moving some of its sleep lines to ventilators.
Farrell emphasized that the need for his company was in component parts, "We had to work with hundreds and hundreds of companies to ensure those parts are available to scale up production," Farrell said, in late March.