Health Systems Implement Plans of Action
Sunday, April 5, 2020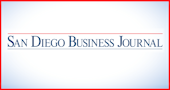 Health Care
On the health care front, hospitals have prepared to respond to COVID-19 patient load and have taken precautions so as not to mix those showing COVID-19 symptoms with the other patients. Sharp Rees-Stealy has created outdoor respiratory clinics at five urgent care facilities in Chula Vista, Sorrento Mesa, Rancho Bernardo, La Mesa and downtown.
According to Sharp Rees-Stealy, patients after receiving a referral can attend any of the facilities at the urgent cares. The facilities maintain separate pathways and workflows to keep respiratory patients separate from others. Even the parking lot has assigned spaces for possible COVID-19 patients. There are also separate bathroom facilities and hand washing stations as well as separate walkways if a patient must enter the clinic.
"We are implementing to protect patients doctors and staff while still providing the needed respiratory assessment and care in the safest way possible," said Dr. Phil Yphantides, medical director, urgent care, Sharp Rees-Stealy Medical Group. "The outdoor clinic consolidates care and preserves our precious resources –- including personal protective equipment –- while isolating and limiting exposure."
This is very important in dealing with COVID-19.
"Having specialized triage for patients experiencing respiratory symptoms is important to patients throughput, as well as protecting patients and our health care providers," said Dimitrios Alexiou, president and CEO of the Hospital Association of San Diego & Imperial Counties "Both contribute positively to our region's surge planning efforts and providing high quality care."
Sharp Rees-Stealy Medical Centers are part of Sharp HealthCare. Sharp Rees-Stealy has a team of 2,700 staff members in addition to the more than 580 physicians who are members of the the affiliated Sharp Rees-Stealy Medical Group.
Scripps Health
In talking with Scripps Health CEO Chris Van Gorder and others in the San Diego medical community, there is a common theme that's shows itself again and again. From hospital CEOs, officials and others meeting every Sunday to discuss needs and strategies of dealing with COVID-19 to people phoning with individual offers to assist, collaboration, community and teamwork are how San Diego will get through this crisis.
Van Gorder discussed how the Scripps Health team is taking on the challenge.
Preparation has been a key factor. "We've been in emergency operations stance for two months," Van Gorder said. "Early on, we restricted visits. To ensure we have enough space, we put up all our surge tents."
Van Gorder is adamant that distancing is just not for hospitals. The key is to flatten the curve. He cautioned against letting complacency settle in. "Protect yourself and the health care delivery system," the CEO said.
Van Gorder discussed the procedures that are now commonplace but vital nevertheless, such as separating COVID-19 patients, having patients call ahead for testing appointments and being met at their cars for the test to limit interactions.
For a while, only the county could do the tests to CDC guidelines. Van Gorder said. Once that opened up, Scripps was the first lab that had testing capability for COVID-19. Initially testing was also limited by old equipment with Scripps doing 40 to 80 tests a day. There is also a shortage of reagents — chemicals needed for the tests — but Scripps got the reagents and two new pieces of equipment enabling it to increase testing. Van Gorder credits his supply chain team for obtaining reagents, but cautions that the shortage still exists.
"The resource situation is not going to get good for some time," Van Gorder said. "Right now we have sufficient supply of N-95 masks. The N-100 masks which are more effective for aerosols are not available now. Scripps is using personal air-powered respirators. We had a lot, and we ordered more."
Van Gorder is appreciative of the San Diego County's help. "The county had been tremendously responsive on getting what our supply chain cannot get. The county has been able to get enough N-95 masks to supply hospitals."
The CEO said Scripps is still short on isolation gowns, surgical masks and eye protective gear.
"We have a lot of unsung heroes," Van Gorder said. "The lab people have been extremely creative making stuff such as protective gear for the eyes."
Ventilators
The ventilator shortage is still a problem. Van Gorder's figures showed the demand. He had 39 positive COVID-19 patients 22 of those were on ventilators.
He said there is an 8 to 10 week delivery time for the equipment.
"The problem is that most every state is trying to buy ventilators. Then, FEMA comes in and outbids everyone," Van Gorder said.
Van Gorder praises Scripps' supply chain people. "They have been phenomenal trying to anticipate down the road what we will need and getting it now," Van Gorder said. "The pharmacy has done the same thing anticipating need. The supply chain, labs and front-line workers are just terrific."
If need be, hospitals could search other medical facilities or even vet offices for needed equipment if the number spike.
As for normal operations, video and tele-visits have shot up. Van Gorder reported 1,844 tele-visits on Tuesday. The high for one day is 1,871 such "visits." This is going to last after the crisis, Van Gorder said. "Doctors are getting used to it; patients love the convenience. It's been a phenomenal success."
But the focus remains on the surge. Scripps is closing three small clinics and plans three to four other closures to free up resources and employees to work in the hospital.
Unprecedented Collaboration
UCSD and SDSU have stepped up volunteering facilities. Van Gorder called the collaboration "unprecedented."
"We are not talking about dealing with crisis as a hospital or health care system, this is managing a disaster from a community perspective," Van Gorder said.
Asked about the cost burden being put on hospitals, Van Gorder said hospitals were probably losing money every day. "We eliminated elective surgery and a lot of visits, Costs rise. A 3 cent mask can cost $1 to $3 dollars. San Diego is fortunate it has hospital systems that can weather the storm now. I do have concerns for stand-alone and rural hospitals. If they don't get help, they will be in trouble. If this goes on forever, so will Scripps.
"Part of the Care Act is money for hospitals," said Van Gorder. "I don't think we'll ever be made whole, but any help would be a help.
"As hospitals, what we do now is circle the wagons. Take care of community first. It's like when I was in the Gulf after Katrina. The hospitals donated a ton of supplies to those who needed it. When asked who was going to pay for it, they said when this is all over we will figure out how we are going to get paid. That's just how hospitals are. When push comes to shove, we are going to take care of our people until we run out of money and run out of people," Van Gorder said.
Telehealth Giant Step
On March 30, UC San Diego Health took a huge step when it was able to convert 50% of its outpatient visits to telehealth visits, said Dr. Christopher Longhurst, chief information officer for UC San Diego Health Sciences. "It keeps patients away from busy waiting rooms avoiding contact with other people, helping support the shelter in place direction," Longhurst said.
UC also provided curbside testing for approved patients. Someone will walk up in a hazmat suit and test you curbside, Longhurst said.
The ER has personnel dedicated to COVID screening; a tent has been placed in front of the emergency room. The hospital is housing all positive patients in same units. All efforts aim to reduce potential spread.
While UC is conducting clinical trials, don't go by looking for the latest cure from TV.
"There are no approved therapies for coronavirus," Dr. Longhurst said. "We don't prescribe untested therapies.
UC has like others had to tighten its visitor policy. To stress distancing needs, Longhurst says three weeks ago California and New York got their first cases. California let schools out, encouraged distancing and now has 10 fold lower case rate and death rate than New York.
Kaiser Permanente
Kaiser Permanente San Diego said it has implemented several changes to maintain the health and safety of its members, physicians, employees and community. Kaiser has implemented distancing policies at facilities and other points of contact.
The first, and probably one of the most effective, is allowing its members to remain home by increasing the virtual visit platform by more than 700%. Currently, 80% of all primary care visits are being conducted via a telephone or video visit, said a Kaiser spokesperson
"To help protect the internal clinical spaces, tented COVID-19 physician-referred evaluation areas have been established on the exterior of our San Diego and Zion Medical Centers," the spokesperson said. "We are also providing drive-up testing sites at our Otay Mesa, San Marcos and La Mesa medical office buildings for patients that have been given an order from their physician."
Kaiser is also providing curbside concierge service for its high-risk members who need to pick up pharmaceuticals.
"While the COVID-19 pandemic offers new challenges, Kaiser Permanente has been working on confronting highly infectious diseases for years, and we are confident we can safely treat patients who have been infected with this virus, while limiting the risk to other patients, members and employees," the spokesperson said. "We are deeply grateful to our medical teams, staff, and employees who are expertly and compassionately caring for and protecting our members, patients, communities, and each other."
Rady Children's Hospital
Rady Children's Hospital's spokesman said the hospital was prepared to offer spare beds if the crisis required it.
He also said the hospital was providing a pediatric nurse advice line (858-966-8399) that can provide advice on COVID-19 from 8 a.m. to 10 p.m. seven days a week. Giving parents a much needed and appreciated tool.
Rady Children's Hospital also adopted COVID-19 procedures to keep patients and staff safe. All visitors are subject to screening for illness, including questions about recent travel history. All visitors must be symptom free of any signs of illness, or they will be asked to leave.
Inpatient units and surgical procedures patients can have no more than two "Partners in Care" (parent/guardian). A clinic and diagnostic appointments patient can have no more than one parent/guardian. Visitors should check with the hospital before a visit in case there is any change in procedures.
In the case of extenuating circumstances, the care team will discuss proper procedures.