SDBJ INSIDER: Innovative Times
Thursday, April 2, 2020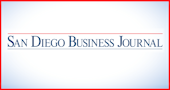 Innovation is the name of the game as San Diegans deal with the coronavirus disruption. Organizations have set up websites providing information on weathering the storm, businesses have come up with new ideas to assist those in need and universities are trying out new methods of instruction to help students complete their education on time while forced to stay at home.
•••
As colleges and universities across California have suspended all in person classes, San Diego-based National University has stepped up its game by offering three months of free online classes to California college students. The key word here is free and students may take up to three classes. They must be currently enrolled in a university that has seen class disruption because of the virus. National is highly experienced at quality online education and recognizes other universities may need help.
Classes begin April 6, and the online programs run through April, May and June.
•••
For most businesses, the current coronavirus situation is an immediate game changer. But challenges breed innovation and businesses are pivoting to provide services or products that meet a demand that was definitely not in their original business plan.
Fit City Adventures is one of those businesses. A relatively new San Diego based wellness firm specializing in group activities promoting healthy corporate team building, they faced a dilemma with the new distance restrictions and isolation requirements. It is hard to team build when the team is scattered throughout the region.
Instead of their usual adventure offerings, the company is now focusing on boosting employee morale through a "Shelter-in Place Survival Kit." With the assistance of more than 40 partners, Fit City Adventures is offering organic and vegan meal delivery to employees' homes, Zen Den meditation and more than 1000 virtual fitness classes in addition to other services.
"We had events scheduled through summer that were all cancelled, so we had to pivot knowing that employers and employees need support in a new way,"Angela Minardi, founder of the company, said. Their website is fitcityadventures.com and it looks like they may have touched on a demand that can only grow as cabin fever sets in for many.
Thinking outside the box is something the breast cancer nonprofit organization Susan G. Komen San Diego is more than willing to do. As an organization dedicated to assisting the breast cancer community, they know how important support is right now to immunocompromised and low income breast cancer patients. To any nonprofit, events are foundational for fundraising. With the restrictions imposed on group meetings, the local Komen organization had to come up with a way to keep its annual "More Than Pink Annual Dinner" alive. So the Friday, May 29 event is going digital. Great idea. Registration information may be found at komensandiego.org.
•••
San Diego Gas & Electric has partnered with United Way of San Diego to create an "Emergency San Diego Worker Assistance Intiative" in response to COVID-19. The company donated $1 million to the program benefiting low-wage workers needing immediate support for utilities, rent or mortgage payments because of COVID-19. In one week, United Way has received more than 4,000 requests totaling over $4 million. To learn more about donating, visit uwsd.org/covid19.
Mission Edge has also announced that they are facilitating the COVID-19 Restaurant Employee Relief Fund being spearheaded by David Cohn of the Cohn Restaurant Group. They are partnering with The San Diego Foundation and an initial $250,000 will be made available to the more than 2,000 laid off Cohn restaurant employees.