Everyday California Shifts Focus to Virtual Efforts
Wednesday, April 1, 2020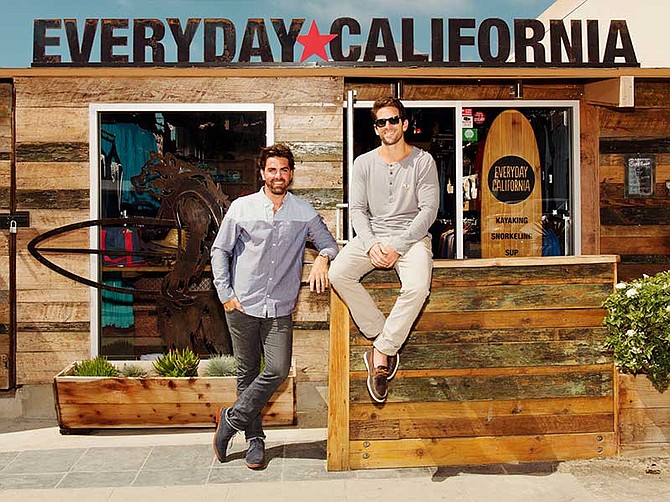 COVID-19 isn't stopping Everyday California, an ocean adventure and lifestyle brand founded in 2010 and headquartered in La Jolla, from encouraging San Diegans to safely enjoy the ocean and participate in some of its carefully curated water activities -- virtually.
Now that San Diego County beaches have closed as a public health effort to enforce social distancing, Everyday California co-founder Christopher Lynch and his business partner Michael Samer are focusing on offering cyber water-focused videos, like ocean kayaking experiences and ocean livestreams, that not only help distract from the crisis and promote mental wellness but that also fit within the Center for Disease Control and Prevention's (CDC) social distancing guidelines.
Slated to launch in a few weeks, the program, through which viewers could enjoy the scenery, the waves and maybe even animals, will most likely go live on the Everyday California social media handles to start, according to the company.
Community and Mental Health
"I see it as somewhat bringing the community together," said Lynch, who graduated from San Diego State University in 2008 with a degree in international economics. He added that in the first two months of 2020, Everyday California, which typically offers kayaking, paddle boarding, surfing, snorkeling, group tours and lessons on the La Jolla Ecological Reserve, increased its revenue by 75% compared to the same time last year, a testament to the power of the ocean. Its overall revenue in 2019 saw a 20% uptick from 2018, he added.
Everyday California's cybernetic activities might also be a good way to maintain mental health during the coronavirus pandemic. According to a 2018 report by NBC News, staring at the ocean "actually changes our brain waves' frequency and puts us into a mild meditative state. The sound, paired with the visuals, activate your parasympathetic nervous system, which is responsible for slowing us down and allowing us to relax and feel more engaged," the article states. Since California's nearly 40 million residents are under a mandatory stay-at-home order, Everyday California's simulated ocean views might be a good option.
Reinvention
Miro Copic, marketing professor at SDSU and co-founder of BottomLine Marketing, said it is smart for companies like Everyday California to reinvent themselves in the time of COVID-19.
"The most important thing for businesses under these circumstances is reinvention," he said, adding that he is currently in the process of helping his own clients think about ways to stay relevant without coming off self-serving. "What they are attempting to do provides an outlet… without being socially irresponsible."
Everyday California came to be after Lynch and Samer purchased the permit to the former Kayak Tour Co., where they both worked while attending college. The $50,000 acquisition, which was afforded by a loan from Lynch's mother, included some pick-up trucks, a handful of kayaks and wet suits, he said.
Adventure and Apparel
In April 2011, Lynch and Samer opened their first store, a 582-square-foot space in La Jolla, which is when the idea to sell apparel occurred to them. On the clothing side, Everyday California sells tee shirts, hats, sweatshirts, shorts, sandals, towels and accessories for men, women and children, said Lynch. It currently manufactures in China, Vietnam, Mexico, Bangladesh and Brazil, while all finishes like printing and tagging take place in California, he said. Since, they've relocated to a 2,400 square foot flagship store, also in La Jolla. Lynch said.
In addition to the brick and mortar, Everyday California sells apparel via e-commerce, said Lynch, on its company website as well as on Amazon. He said that part of the business grew by 400% the first three months of 2020 compared to the first three months of 2019. And, as part of their commitment to give back to the planet, Lynch said Everyday California works in conjunction with Shopping Gives, an ecommerce platform that enables brands to make donations from sales through which Everyday California donates a percentage of its apparel revenue to the nonprofit of the customer's choice.
Everyday California also works closely with GreenWave, an organization that supports the building of a blue-green economy, to which it donated more than $12,000 in cash in 2019; and 1% for the Planet, a network of environmental nonprofit organizations. Lastly, the company supports Outdoor Outreach, a San Diego-based nonprofit that connects youth with the outdoors, and Urban Surf 4 Kids, an outreach program that teaches orphan youth and foster kids how to surf, said Lynch.
Philanthropic Efforts
Copic said Everyday California's apparel segment as well as its philanthropic efforts will help the company stay relevant during these uncertain times.
"The good news is they can also sell apparel," he said, adding that their longtime charitable contributions in terms of sustainability and with a strong focus on the ocean gives them credibility. "It shows they aren't taking advantage of the situation because this company focuses on giving back and donating some part of its purchases, which is a win for these guys."
Post-Coronavirus
In the summer, Lynch said Everyday California has plans to release its first sunscreen, which follows the release of its first beer, an IPA with San Diego-based Resident Brewing.
Also in the summer, Lynch said Everyday California hopes to return back to physical activities and host its first surf lesson as well as its first surf camp. If things go as planned, the company will hold three day and five day camps, either full day or half day, he said, with the cost ranging between $265/week and $635/week. Lynch said he wants to open additional Everyday California locations to continue to "make fun happen, create cool apparel and help improve the environment."