MEDICINE: DRUG MAY HELP IN BONE MARROW TRANSPLANTS
Co.'s Antifungal Success May Help Other Efforts
Sunday, September 29, 2019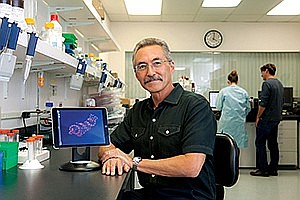 Antibiotic-resistant infections grab headlines. But Cidara Therapeutics has toiled on a related but lesser-known problem: antifungal resistance.

Boosting its mission, Cidara earlier this month got $30 million upfront and as much as $568 million in a recently inked deal with Mundipharma.
The deal looks to take Cidara's drug from late-stage clinical testing to commercialization. It also gives the biotech more cash to spread to its other programs, including one that aims to prevent the flu.
Similar to bacteria that develop resistance to antibiotics, fungal strains can evolve and turn deadly. Cidara said hospital-acquired fungal infections result in 97,000 deaths in the U.S. annually.
CEO Jeffrey Stein said not only is there a need for antifungal drugs, but contrary to the impression of some investors, these drugs have much greater commercial prospects than antibiotics.
Limited sales and steep development costs have scared away drugmakers from antibiotics, despite the problem of growing resistance.
"In this regard, the companies developing antifungals are unfairly painted with the same brush," Stein said.
Analyst Louise Chen with Cantor Fitzgerald said the investment from Mundipharma — a successful global company — validated Cidara.
"This deal also underscores that antifungal/anti-infective drug development is underappreciated, Chen said in a research note earlier this month.

Chen and other analysts issued a buy rating on the stock, but noted competition is afoot. One potential source could be Amplyx Pharmaceuticals, another local company.
Robert Driscoll with Wedbush Securities said the recent cash injection lengthens the company's runway amid late-stage clinical testing.
"Overall, we view the Mundipharma partnership as a significant de-risking event," said Driscoll.
Mundipharma bought the rights to Cidara's drug, rezafungin, outside of the U.S. and Japan, on the heels of positive midstage clinical trial data.
The U.K. company made a $30 million upfront payment, $9 million equity investment in Cidara and committed $42 million in the near term for clinical testing of rezafungin.
In addition, Cidara is eligible for $568 million in development, regulatory and commercial milestones, plus double-digit royalties on drug sales.
But this largely rests on rezafungin getting the U.S. Food and Drug Administration's blessing. Cidara will keep leading rezafungin's development under the deal.
Rezafungin is undergoing phase 3 clinical testing to prevent and treat Candidemia — a fungus that enters the bloodstream and spreads through the body. It's the fourth most common cause of bloodstream infections in U.S. hospitalizations, according to Cidara.
A separate phase 3 trial is looking at whether rezafungin guards against fungal infections in patients with a compromised immune system, including from bone marrow transplant. These patients are particularly vulnerable to infection and have a tough time fighting it off.
Works Right Away
Stein said rezafungin works right away — critical because systemic fungal infections can quickly turn deadly.
"Basically, the more drug you can administer up front, the more efficacious," he said. "If you delay effective treatment by 24 hours, your risk of dying goes up 30-fold."
Analysts listed convenience as another rezafungin attribute. Rezafungin is administered less frequently than other drugs in its class — weekly versus daily.

In addition to rezafungin, Cidara is developing drugs with its cloudbreak platform. It induces the immune system to attack and eliminate pathogens, a tack similar to some cancer drugs.
Fighting the Flu
This technology is being trained against the flu. The biotech's preclinical program aims to offer broader influenza protection than the flu vaccine through an annual dose.

Stein noted Cidara's program isn't a vaccine, but rather what are called antiviral Fc-conjugates. They work by inhibiting cell transmission and focusing the immune system on an infection site.
"Preclinical data point to a remarkably potent agent across several different influenza strains," wrote analyst Alan Carr with Needham & Co. in a research note last month. "A single administration for passive immunization over an entire flu season may be feasible."
That said, the drug has yet to be tested in humans. Cidara is studying the drug more before asking the FDA to begin clinical trials.
Cidara's technology drew in Stein, who made a name for himself as the CEO of Trius Therapeutics, which Cubist Pharmaceuticals acquired for $818 million in 2013.
"It was really intriguing to possibly revolutionize infectious disease, which of all the therapeutic areas, could be viewed as the most antiquated," he said.
Reimbursement Picture
Stein said the reimbursement picture is better for antifungals than antibiotics. Nonetheless, the company looks to benefit from regulatory changes to spur antibiotic and antifungal development.
A U.S. bill introduced this summer — DISARM (Developing an Innovative Strategy for Antimicrobial Resistant Microorganisms) — would increase Medicare reimbursement for new antibiotics for life-threatening infections.
Across the pond, Britain's National Health Service this year announced it would pilot a subscription model that will pay pharmaceutical companies upfront for access to effective antibiotics and antifungals, instead of reimbursement based on quantity.
This comes in response to drugmakers leaving antibiotic research because they have a tough time recouping development losses given the periodic nature of antibiotic use. In contrast, diabetes drugs — for example — are usually taken continuously over a long period.