WILL WORK IN LEMOORE TO SUPPORT NAVY F-35
Harper Construction To Build Hangar Under $95.4M Deal
Wednesday, September 25, 2019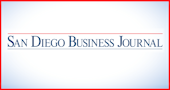 The following are selected defense contracts awarded to San Diego County companies or being performed in San Diego County in September. The U.S. Department of Defense releases a digest of contract awards daily at 5 p.m. Eastern Daylight Time.
Harper Construction Co. Inc., based in San Diego's Little Italy neighborhood, received a $95.4 million contract from the U.S. Navy to build a maintenance hangar for F-35C aircraft at Naval Air Station Lemoore, in California's Central Valley. The project calls for the construction of what the Navy calls a two-module Type I aircraft maintenance hangar. It includes associated airfield pavement, operational and munitions storage, renovation of an existing battery shop and building a new tool room. The project also provides temporary facilities. Work is expected to be complete by November 2021. The Naval Facilities Engineering Command Southwest awarded the contract, announced on Sept. 16. It received five proposals.
Northrop Grumman Gets $57.5M for Electronics Work
The U.S. Navy exercised an option under a contract with Northrop Grumman Corp. worth $57.5 million. Under the deal, the contractor will provide engineering support services related to its JCREW electronics. JCREW is a signal jammer (the initials stand for Joint Counter Radio-Controlled Improvised Explosive Device Electronic Warfare). The deal calls on Northrop Grumman to introduce new technologies, address diminishing material and depot repairs to keep JCREW systems viable for future production, and keep systems ready for the field. Work will be done in San Diego and is expected to run through September 2020. The contract covers Increment One Block One systems in support of the Expeditionary Program Office. NAVSEA, the Naval Sea Systems Command of Washington, D.C. awarded the deal, announced on Sept. 13. Shares of Northrop Grumman trade on the New York Stock Exchange under the symbol NOC.
Kratos Collects $35M Air Force Deal
Kratos Defense and Security Solutions Inc. received a $35 million contract from the U.S. Air Force for spare parts for Air Force subscale aerial targets. The target drones simulate airborne threats during exercises, allowing members of the military to train on weapon, radar and other systems. Work will be performed at Kratos' Unmanned Systems Division in Sacramento and is expected to run through March 2024. The contract is a sole-source deal. The Air Force Life Cycle Management Center at Eglin Air Force Base in Florida made the award, announced on Sept. 16.
New Vessel's Shipyard Trip Planned
Austal USA LLC of Mobile, Alabama received a $7.5 million order for shipyard work on the Littoral Combat Ship Cincinnati. Work will be done in San Diego and is expected to be completed by November 2020. The order covers manpower, support services, material, non-standard equipment and associated technical data and documentation required to prepare for and accomplish a shipyard visit known as a post shakedown availability. The Supervisor of Shipbuilding, Conversion and Repair for the Gulf Coast in Pascagoula, Mississippi awarded the contract, announced on Sept. 10. The Navy expects to commission Cincinnati in ceremonies Oct. 5 in Gulfport, Mississippi. Later the ship is expected to travel to its homeport of San Diego.