DEFENSE: MAINTENANCE AND REPAIR FIRM SEES 'BREAKOUT YEAR'
Affordable Engineering Services Wins $83M in Aircraft Work
Wednesday, September 25, 2019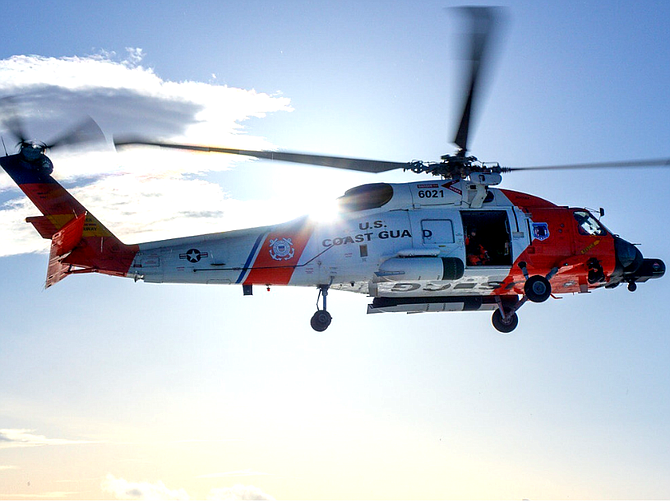 Affordable Engineering Services Inc., a Mission Valley business specializing in aircraft repair, picked up a significant contract win in late summer, receiving an $83 million deal to maintain helicopters for the U.S. Coast Guard.
That, combined with other contract awards, is making 2019 memorable.
"This is a breakout year for us," said Bob Simek, president of AES, adding that he is waiting to hear about other contract bids.
Under its newest win, AES will operate from the U.S. Coast Guard Aviation Logistics Center in Elizabeth City, North Carolina. The town is roughly an hour's drive south of the U.S. Navy port in Norfolk, Virginia.
AES will provide depot level maintenance for MH-60T helicopters over five years. Services will run from aircraft induction to modifications, repairs and support of flight test.
Sikorsky, a subsidiary of Lockheed Martin Co., makes the MH-60 Jayhawk, which is seen in San Diego along with its cousin, the U.S. Navy Seahawk. The Coast Guard's Jayhawk helicopters are optimized for search and recovery missions. They have a crew of four, have a range of 700 nautical miles and can stay in the air for six and a half hours.
The business has been performing depot level maintenance on similar helicopters for about 10 years. The new contract "builds on our proven expertise in the modification, repair and overhaul of MH-60 aircraft," said Simek.
An Unmanned Project
Dan Kamdar founded AES in 1996 to serve the U.S. military and other government customers. He is sole owner and chairman of the company.
AES has about 450 employees with 225 in the greater San Diego area. Most of the local employees are at the U.S. Navy base at North Island. The business does work on several models of aircraft at Fleet Readiness Center Southwest, the Navy aircraft repair depot. It was the prime contractor for a while, but after outgrowing the federal definition of a small business, it is now a subcontractor to another vendor.
Though military aircraft maintenance forms the core of AES' business, it also does work for commercial customers under the name AES Commercial Aerospace Inc. Employees with a background in unmanned aviation are in the middle of converting a commercial customer's conventional helicopter for unmanned use. Simek declined to give terms of the deal. Kaman Aerosystems is the client. Simek said AES is about 18 months into the project. Designs are complete and AES expects to reach the critical design review stage in November. He added that AES expects to conclude the flight test stage in June.
"This is a proof of concept," he said.
Utah, Idaho and Points East
Earlier in the year, the company won $10.5 million in deals supporting the Air Force DOCAT program at Ogden Air Logistics Complex at Hill Air Force Base in Utah. (DOCAT stands for Depot On-site Contract Augmentee Team). Under the task orders, AES will provide 115 skilled employees to perform maintenance on various aircraft and weapon systems, manned and unmanned. The manned systems include A-10, F-15, F-16, F-22, F-35, B-1, B-2, C-5, C-17, KC-135 and C-130 models. Work will last one year.
AES also received an award to provide on-site training, maintenance and technical advice for A-10C aircraft systems at Air National Guard locations in Fort Wayne, Indiana; Boise, Idaho; Selfridge, Michigan and Baltimore, Maryland.
The world where AES operates can be slow moving. There can be a significant time lag between bidding on a government contract and learning the outcome.
Simek said he's waiting to hear on several potential awards, including $300 million deals which could double the size of the company if AES wins them.