MEDICINE: NEW REIMBURSEMENT MECHANISM MAY SERVE AS MODEL FOR OTHER HOSPITALS
Tri-City, County Agree on Mental Health Funding
Monday, September 23, 2019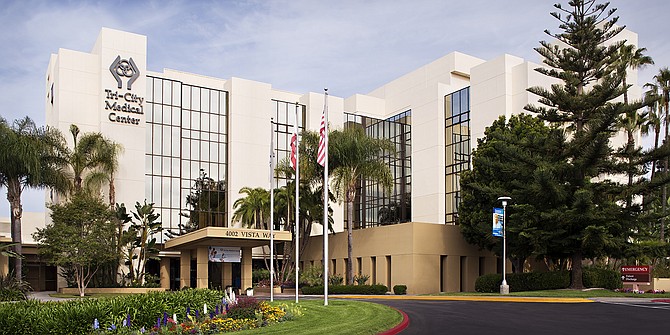 A recent deal between Tri-City Medical Center and San Diego County could serve as a new model in funding mental health at hospitals, one potential solution to a strained psychiatric system.
San Diego hospitals have complained that they take a financial hit treating mental health patients. Reimbursement falls short of expenses, particularly for low-income patients with Medi-Cal.
But as part of a Tri-City and county agreement to jointly fund a new 16-bed inpatient unit, the county pledged a new way of funding psychiatric operations.
Goal of Financial Sustainability
The deal calls for Medi-Cal reimbursement that's "proportional" to Tri-City costs, with the goal of making the program financially sustainable.
Under the model, Tri-City would receive higher payments if it takes on more Medi-Cal patients while delivering quality care. That's in line with a broader trend in health care that incentivizes performance.
Tri-City and the county declined to comment for this article. But at a recent San Diego County Board of Supervisors meeting, county behavioral health director Luke Bergmann said the new funding mechanism would inform negotiations with other hospitals.
'Template for Other Partnerships'
"We expect to use a version of this framework as a template for other partnerships in the region, developing a model that can drive down costs over time and provide fiscal leverage to continue improving the (mental health) continuum," Bergmann said.
At that meeting the board unanimously approved the memorandum of understanding between Tri-City and the county, quelling anxiety over Tri-City last year closing its inpatient psychiatric unit. That closing drew community outcry and another North County hospital, Palomar Health, reported an increased patient load as a result.
The recent agreement, which will go back before the board for a final vote in January, states Tri-City and the county will split the cost of a new psychiatric facility on Tri-City land that's estimated to run $10 million to $14 million.
This summer, the board directed county staff to negotiate mental health services with not only Tri-City, but also other interested hospitals.
Dan Gross, executive vice president of Sharp HealthCare, said in a statement he's encouraged by the new funding framework and that Sharp looks forward to "engaging the county in such discussions."
"Creative solutions and partnerships are needed to adequately address our region's mental health care needs. Focusing on the critical issues of inadequate funding, care continuum needs, care coordination and workforce shortages are essential," Gross said.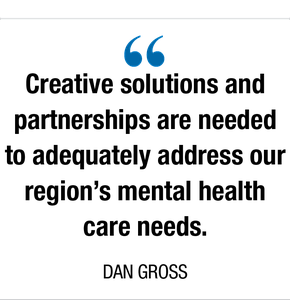 Scripps Health in a statement said it's open to exploring new reimbursement models.
"We certainly feel it's important to be fairly compensated for our cost of providing high-quality behavioral health care."
Palomar Health said it's negotiating with the county over behavioral health.

"We don't know any of the details on the Tri-City agreement so we cannot comment on how their agreement might be similar or different than what we are talking to the county about," Palomar spokesman Derryl Acosta said in an email.
UC San Diego Health did not respond to an interview request.
Hospitals have reported losing millions annually in behavioral health, which has more of an impact on smaller health systems.
For instance, Palomar Health in 2018 reported about a $14 million loss on psychiatric services. This put the nonprofit hospital in the red. Palomar posted an overall operating loss of $11.8 million.
With financial pressures weakening the region's mental health system over the last decade, patients can face lengthy waits for care.

Tri-City's closure last year prompted a county review of mental health weaknesses.
As an initial step to bolster coverage, the county this summer added crisis stabilization units to reduce the burden on emergency departments.