DEVELOPMENT: HAMMER VENTURES TAPS MULTIFAMILY MARKET
Once All Business, 625 Broadway Reimagined
Monday, September 23, 2019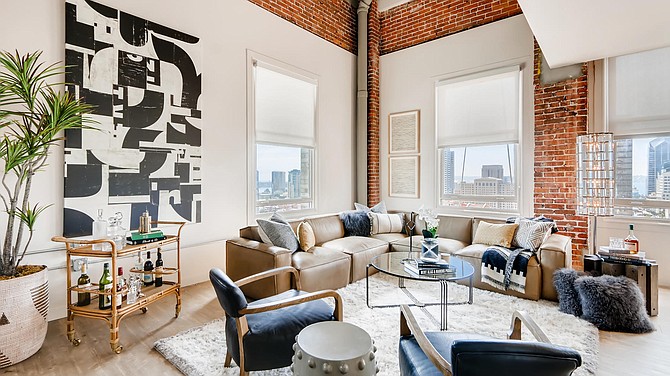 Downtown San Diego's very first high-rise building — the John D. Spreckels Building — has gotten a makeover to become luxury apartments.
Completed in 1927 as a bank, the 13-story building at 625 Broadway was conceived by the philanthropist for whom it's named but completed after his death.
The building was known at various times in its history as the Bank of Italy, the Bank of America building and the Home Fed building, depending on who occupied it, but throughout it all, it carried a second name — the John D. Spreckels building.
Hammer Ventures bought it in June 2014 for $52.5 million, restored the exterior and renovated the interior to create 231 apartments, 198 of which are flats with 33 lofts.
Its new name is simply its address — 625 Broadway.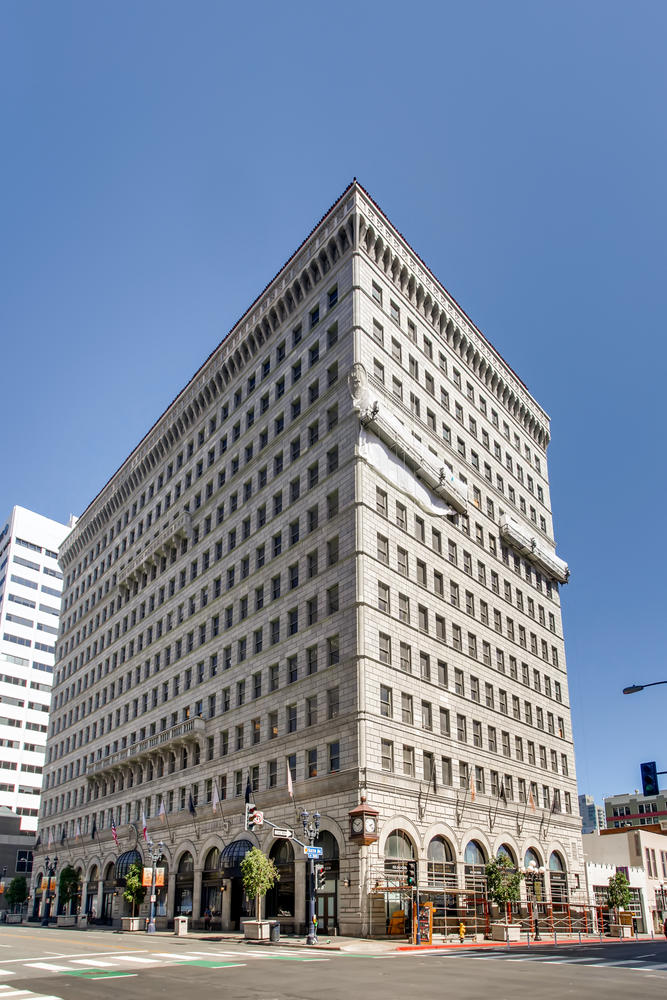 1920s Touches, Modern Era Views
Stepping inside the lobby is like taking a walk back in time.
The bronze metal doors to the elevators have been kept as has the bronze plate above them that marks the rise and descent of the elevators.
The apartments are like few others in San Diego — a blend of old and new with ceilings that are 12 feet high in the flats and up to 29 feet in penthouse lofts, oversized windows that are 6 feet tall, exposed brick walls, and windows that give views of the Coronado Bridge, downtown San Diego and down Broadway to the San Diego Bay and the cruise ship terminals.
They are in sharp contrast to the ultra-modern towers that have been popping up elsewhere downtown, especially in the East Village and Little Italy.
"Not everybody wants the glass and concrete, shiny obelisk," said Kevin Mulhern, a senior vice president of the commercial brokerage CBRE.
"There certainly are folks that love the historic aspect of a building," Mulhern said. "When it's done right, you still have all the modern amenities and all new finishes and everything else, but you also have that historic element to it, that kind of Old World charm or whatever you want to call it."
Old Shell Hides New Infrastructure
Keeping the historic feel of the building was very much a part of the renovation of 625 Broadway, said Lawrence Howard, director of development at Hammer Ventures.
"625 Broadway is a designated historical resource. All elements of the exterior were maintained and improved," Howard said. "The original windows were restored as were some interior elements like the original brick, floors and concrete shell structures."
At the same time, the interior renovation was "an extensive overhaul on all building systems," Howard said, adding that "625 Broadway is essentially a brand new building built to current code within the historic steel and concrete structure."
The renovation included grinding and sandblasting interior concrete floors, walls columns and ceilings, new plumbing and electrical wiring, a new air conditioning and heating system and thermostats, new sprinklers and fiber optic cable.
Office Fixtures Out, Appliances In
Before Hammer bought the building, most of it was used as office space. All of the office structures have been removed.
"The goal was to strip it down to its original form, expose the historic architectural components that make it unique, and then elevate the unit (apartment) with high-end finishes around the original form," Howard said.
All of the apartments have GE stainless steel kitchen appliances, European cabinetry with soft-close doors, hardwood-style floors, designer lighting, Delta fixtures, and GE washers and dryers.
Amenities include a 3,415 square-foot fitness center with skylights and a 650 square-foot yoga/barre studio, a 2,285 square-foot clubhouse with a catering kitchen, a bar, a game room and resident lounge.
There's also a 250 square-foot business center and lounge and an 830 square foot "green room" which Howard described as an "oasis featuring lush plants and a Zen fountain."
Parking for residents is provided in an adjacent garage.
M.W. Steele was the architect and Swinerton Builders was the general contractor.
Market Has Good Absorption
Monthly rents range from $1,750 to $6,500.
The renovated Spreckels Building joins several other new downtown apartment projects, creating what Mulhern said is "a tenant friendly market as opposed to a landlord friendly market."
"You've got multiple projects, big projects that are still in lease-up. On the flip side, the absorption is very good. It's not a situation where we've topped demand," Mulhern said. "It's not like there's been a sudden drop in demand."
While the downtown market has softened somewhat, Mulhern said "the downtown market is a very strong market and it's not going to flip upside down or anything."
The 625 Broadway project also stands out from its competitors because of the history behind it, Mulhern said — a point Hammer Ventures stresses in its marketing.
"625 Broadway is inherently different and unique to San Diego," Howard said. "It is of a time and place, made by hand from raw materials, industrious, ornate, analog, heavy, grand, timeless."