DEVELOPMENT: PROPERTY IN DOWNTOWN, OTAY MESA
Sales Spur Building In Two Submarkets
Sunday, September 22, 2019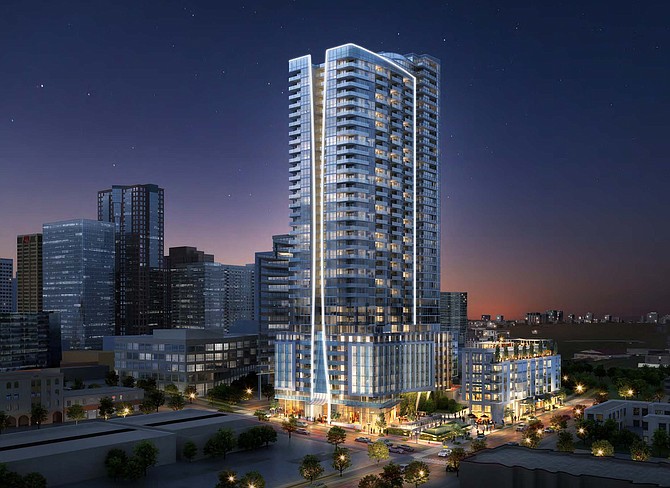 Liberty National Corp. has acquired the final 30,000-square-foot parcel that it needs to build a mixed-use project at Park Boulevard and Broadway in East Village that will include a 40-story apartment building and 16,500 square feet of commercial space.
The San Diego-based company bought the property for an undisclosed price from The Salvation Army, which previously sold three nearby downtown buildings to Kilroy Realty Corp. for about $16 million.
Those three buildings are used in part for the Salvation Army's rehabilitation services, which the agency plans to move to Otay Mesa adjacent to Brown Field Municipal Airport.
Murphy Development plans to start construction in the first quarter of next year on two mixed-use buildings for the Salvation Army at the 12.8-acre Otay Mesa site.
The sale of the downtown property that was a vacant lot to Liberty National Life Insurance Co. gives the developer nearly 1.4 acres for the mixed-use project that it calls 13th & C.
The site covers a full block bounded by Park Boulevard, 13th Street, Broadway, and C Street.
"I think this is going to revitalize that part of the East Village," said Jason Kimmel, a senior director in the commercial real estate group at Cushman & Wakefield. Kimmel and Tim Winslow and Kevin Nolen, also of Cushman & Wakefield, brokered the deal on the 13th & C.
Busy Street
The 40-foot-tall tower building will have 489 apartments, an adjacent six-story building on 13th Street will have 52 apartments, and a seven-story building on Park Boulevard will have 72 apartments, said Kacey Cook, a senior marketing and brokerage coordinator with Cushman & Wakefield.
The 16,485 square feet of commercial space will be spread out among all three buildings," Cook said.
The tower will be at Broadway and Park Boulevard on the west side of the site.
"It's a great East Village location. It kind of sits not in the middle where it's on top, where it's walkable," Cook said. "You're close to a lot of central businesses there. You're right next to the trolley station."
Because the project is still in its early stages, many details are still being worked out, such as the size of the apartments and the amount of monthly rents.
Kimmel said the apartments in 13th & C will likely draw "a mix of young professionals, retirees, millennials—in some respects it's going to be a mix of all sorts of folks there."
Otay Mesa Project
Although not directly related, The Salvation Army's Otay Mesa deal is one of several of the agency's property transactions.
In addition to selling the downtown sites to Liberty National and Kilroy, the Salvation Army in January sold a 36,000-square-foot office building in Bankers Hill at 2320 First Ave. to a West Hollywood developer for $7.5 million.
The purchase price for the Otay Mesa property was undisclosed.
The Otay Mesa project consists of an 85,000-square-foot industrial building and a 45,000-square-foot support services building in the 52-acre Brown Field Technology Park.
"This larger facility will enable us to better serve an additional 20 more men each month, bringing the total to 120 men in our no-cost adult rehabilitation/job training program," Maj. Henry Graciani, general secretary of The Salvation Army Centers Command, said in a statement.
The buildings are expected to be finished in the first quarter of 2021, said John Couvillion, director of development for Murphy Development.
In the interim, the Salvation Army will continue to use the three downtown buildings it sold to Kilroy Realty, which plans a mixed-use project on the site.
Working with Murphy Development on the Otay Mesa project are Tim Schultz of Pacific Cornerstone Architects, K&S Engineering, and Lusardi Construction.
228K SF for Murphy
In addition to the Salvation Army project, Murphy Development is constructing a 103,662-square-foot building and 124,326-square-foot building in the technology park.
They will have 32-foot clear heights, 4,000 amps of 277/480 volt power, manufacturing sewer and water capacity, ESFR sprinklers, concrete truck courts, wide column spacing and high dock door rations.
"Brown Field Technology Park offers potential tenants state-of-the-art design, large setbacks, impeccable corporate image and landscaping coupled with San Diego's lowest occupancy costs," said R. Michael Murphy, president of Murphy Development.