COMPANY SEES ITSELF IN LEADING ROLE FOR TELEMATICS
Funding Round Brings $90 Million to SmartDrive
Sunday, September 22, 2019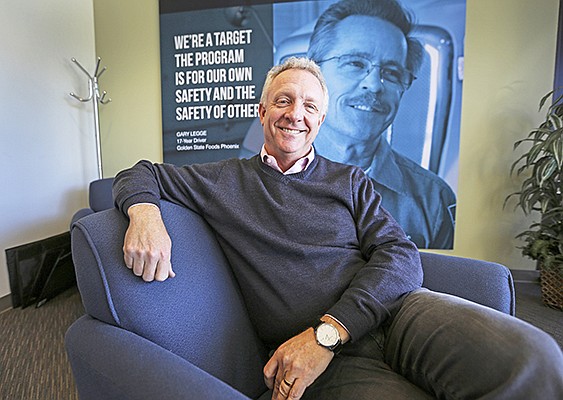 San Diego-based telematics company SmartDrive Systems raised $90 million in financing on Sept. 12. The round was led by TPG Sixth Street Partners, an investment firm partnered with of San Francisco-based TPG Capital that specializes in providing financing to high-growth companies. Some of SmartDrive's previous investors also participated in the round.
SmartDrive CEO Steve Mitgang said the additional cash would allow the company to respond to a fast-growing market in the logistics industry.
"We see a very big opportunity to run forward as one of the market leaders," Mitgang said. "The fleets are recognizing how to use data and analytics to improve fleetwide performance. Logistics, last mile and autonomous will change the landscape dramatically in the next 10 years. The ability to lead in each of those big buckets is what we're excited about."
SmartDrive makes vehicle video telematics systems that record whenever risky driving is detected. The company offers analytics on everything from driver safety to delivery times to fuel efficiency, through a subscription model for trucking fleets.
On a Hot Streak
With more logistics companies turning to these solutions, SmartDrive has been on a hot streak. Mitgang said the company has been seeing more than 40 percent growth in new vehicle subscriptions and revenue, nearly double the growth rate of the overall telematics market.
The company has also grown its local employee base to 173 employees, with more than 700 employees worldwide. Mitgang did not disclose SmartDrive's valuation in light of the new investment.
"We are really happy with the continued growth in enterprise value. Our investors are thrilled," Mitgang said. "We keep marching along."
One of SmartDrive's existing investors introduced the company to TPG Sixth Street Partners, leading to the financing. Bo Stanley, partner and head of capital solutions at TPG Sixth Street Partners, said SmartDrive was well positioned with its analytics platform and solid subscriber base.
"SmartDrive is a market leader in the large and expanding transportation safety and intelligence sector and we are pleased to be investing in a growing company led by such a talented team," Stanley said in a news release.
New Algorithms
Mitgang said SmartDrive plans to invest the new funds into creating new algorithms that could help its clients, looking at factors such as fatigue, hours behind the wheel, and urban driving versus highway driving. The company is currently hiring for several engineering and sales roles.
"We're so excited about the people that have come to us for the SmartDrive story," Mitgang said. "This will allow us to write the next few chapters of the book."