Malin Burnham Donates $2.3M to USD Real Estate Program
Thursday, September 19, 2019
San Diego philanthropist Malin Burnham and his wife, Roberta, have given $2.3 million to the University of San Diego real estate program that bears his name – the Burnham-Moores Center for Real Estate.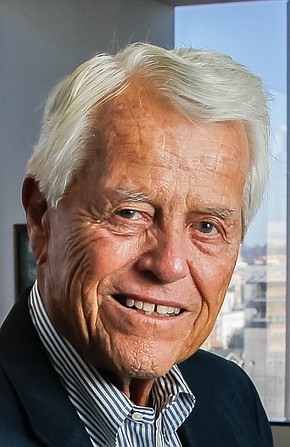 The Burnham-Moores Center's undergraduate program has been cited as the best in the nation by a national ranking organization for two years running.
In announcing the contribution he and his wife were making, Burnham said "There's an obligation to keep that going."
Their gift is part of the center's Campaign for 2020, which has a goal of raising $10 million.
So far, $3.4 million has been donated.
The money will be used for student scholarships, to support and recruit real estate faculty and for other center activities.
Speaking at the Burnham-Moores Center's Breakfast at the BMC Lecture Series Sept. 19, Burnham said that he hoped that it would help the center continue to grow.
"When you're the best, you should share, and that means more students," Burnham said. "The way the center engages with the San Diego real estate community, for the benefit of both the undergraduate and graduate students at the university, made it a very easy decision to make this gift. We are extraordinarily pleased to support the center and look forward to watching its continued success for years to come."