KAABOO Under New Ownership
Wednesday, September 18, 2019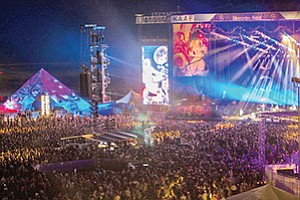 KAABOO San Diego, formerly known as KAABOO Del Mar, is now under new ownership.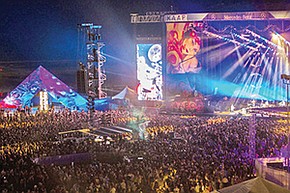 According to a press release, Jason Felts, Virgin Fest founder and CEO, has acquired all of the festival brand assets through the music festival arm of the Virgin brand. Felts was formerly a partner at and chief brand officer of KAABOO. The terms of the deal were not disclosed.
"I attended the first KAABOO Del Mar in 2015 with my parents," said Felts in a statement, "given it was KAABOO'S inaugural year, the attendance was low, however it became very clear to me that the vision was truly unique. It also became clear that KAABOO shared a like-minded approach to Virgin with customer service, while delivering a unique, differentiated, multi-sensory festival product. That, of course, is a testament to the founders' initial vision supported by an extremely talented team of professionals who executed upon that vision. It was on that basis that we first invested and supported this vision in 2016."
KAABOO San Diego, originally KAABOO Del Mar, was founded by Bryan Gordon and Seth Wolkov in 2015. Earlier this year, it added KAABOO Cayman and KAABOO Texas. Earlier this week, it was announced that KAABOO will also be relocating to Petco Park starting next year, thus the change in name from KAABOO Del Mar to KAABOO San Diego.
According to a press release, the music, comedy, art and culinary festival has reached a multi-year agreement with the San Diego Padres to use Petco Park.
"As the KAABOO brand and our live event properties continue to grow and evolve, it's imperative that we continue to deliver an unparalleled experience for our guests by holding KAABOO in a world-class venue with exceptional room for growth," said Felts via a statement. "The location of Petco Park and its surrounding venues in downtown San Diego provides fans and artists alike the opportunity to enjoy everything that the vibrant metro area has to offer."
KAABOO San Diego will utilize various areas inside and surrounding Petco Park, including the playing field, Sycuan Stage at the Park, Lexus Premier Lot and the Tailgate Lot, according to the release.
Under the new ownership, KAABOO will not be rebranded, as per the release, but will continue to explore new partnerships to grow the brand with new offerings and activations. The acquisition was brokered and negotiated on behalf of Virgin Fest by a team at Latham & Watkins LLP, led by partner Ken Deutsch.
Travel & hospitality reporter Mariel Concepcion can be reached at mconcepcion@sdbj.com or 858-634-4625.