UNMANNED HELICOPTER PART OF VERSATILE LITTORAL SHIP
Northrop Grumman Fire Scout Carries Mine Detector Aloft
Tuesday, September 17, 2019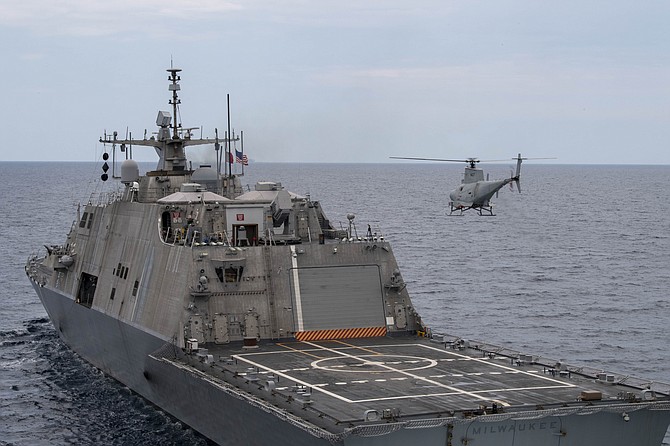 The unmanned helicopter comes first. The Marines follow.
That is the scenario that has come into focus for Northrop Grumman Corp.'s Fire Scout, when it's working as a mine hunter.
Prime contractor Northrop Grumman (NYSE: NOC) builds the aircraft for the U.S. Navy. The corporation begins with a conventional, piloted helicopter and equips it with everything it needs to operate as an unmanned military vehicle. The factory where the conversion takes place is located elsewhere but the program is run from Rancho Bernardo.
One thing the Navy has been doing is equipping Fire Scouts for jobs in shallow waters — also called the littorals. The Navy plans to send the helicopter to sea on the Navy's Littoral Combat Ships. When commanders prepare for an amphibious assault, a helicopter from such a ship can make reconnaissance trips to the surf zone and the beaches, getting a sense of whether there are any mine fields and other obstacles to a landing.
A COBRA Hugs the Coast
Doing the work on the Fire Scout will be its mine-hunting sensor electronics, which go by the formidable name of COBRA (short for Coastal Battlefield Reconnaissance and Analysis). Areté Associates makes the electronics in Tucson, Arizona. They were declared ready for use in mid-2017, according to the Navy, and now the Arizona business is developing more advanced versions of COBRA.
An unmanned aircraft keeps people away from dangers such as mines and enemy fire, the Navy says in its explanation of COBRA.
Littoral Combat Ships have three purposes, and can be given a different purpose by swapping out what the Navy calls mission modules. The COBRA-equipped Fire Scout goes with the mine countermeasures module.
There is also a surface warfare module and an antisubmarine warfare module for the Littoral Combat Ships, and these too use the Fire Scout. The ships can also carry manned MH-60 helicopters.
San Diego is home port to many Littoral Combat Ships, particularly the Independence class, which have trimaran hulls and are built out of aluminum.
Two Helicopters, Varied Jobs
There are actually two variations of the Fire Scout helicopter. The MQ-8B, made from a Schweitzer body, has a shorter range and can carry limited weight. The MQ-8C is made from a Bell 407 commuter helicopter, has a longer range and more carrying capacity.
The Navy says Fire Scout will also help it put its weapons on target.
In December 2017, the Navy publicized the larger Fire Scout's role in successfully delivering a ship-launched Harpoon missile to its target, which was over the horizon from the ship. The event took place during war games in August 2017 in the Philippine Sea.