HEALTH: CONSUMER FOCUS ON NUTRITION DRIVES DEMAND
$161B Market Seen in 'Functional Foods'
Tuesday, September 17, 2019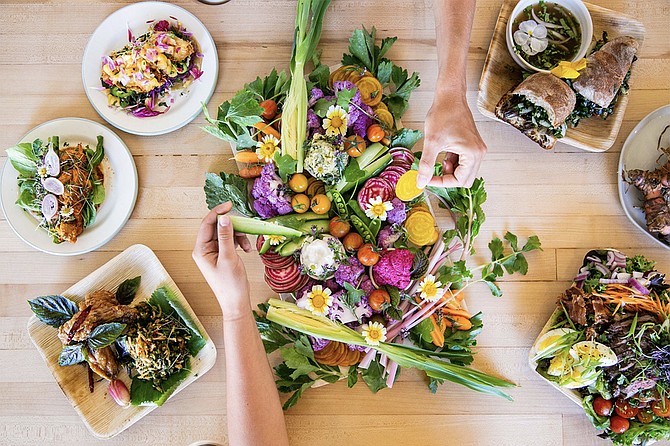 More and more, San Diego-based food companies are placing focus on including functional ingredients in their "better for you" offerings, including prebiotics, specialized plant fibers like chicory root, dandelion greens, and Jerusalem artichoke; and probiotics for gut health, among others.
When patrons check out the menu at Enclave Adventurous Superfood LLC, a 600-square-foot restaurant and kitchen opened last month in Scripps Ranch, they will find items such as turmeric ginger organic chicken, bone broth with fresh moringa (miracle tree) and a side of kimchi, a probiotic; or, a pho-inspired sandwich with pho shiitake au jus, organic grass-fed brisket in healing herbs, medicinal mushrooms and Vietnamese chimichurri, to list a few.
For Lan Thai, aka Chef Lando, the CEO and founder of Enclave, the brick and mortar's goal is to offer customers food options that provide health benefits beyond just essential nutrients such as vitamins and minerals.
"Functional foods can save lives," said Thai, formerly a personal chef and caterer. "I've seen it for myself and in others. I no longer have a bloated gut and no joint pain from eating more bone broths, turmeric, ginger, mushrooms, and other functional foods. I have lots of energy, which is essential for an entrepreneur building a startup."
Enclave is just one of many local businesses concentrating on the functional foods sector. Driving the space is millennials no longer wanting to wash down a handful of dietary supplements and vitamins in order to meet their health needs; today's generation wants the ease of having the same nutritional benefits already incorporated into its foods.
Millennials Market
CEO and founder Danielle Dietz-LiVolsi of NuttZo LLC, a nut butter company headquartered in Del Mar, said functional foods is a natural progression from the supplement category that has been used to maintain health and wellness the past few decades.
"The millennials are changing manufacturers' way of viewing food and health," said Dietz-LiVolsi, whose NuttZo carries a line of collagen, matcha, and probiotics-infused snack bars that retail for $37.99 for a box of 12. "They are concerned with how things are sourced, manufactured, and a company's philanthropic mission. They want fresh, on-the-go snacking that is made up of minimally processed, high-quality ingredients with the maximum nutrition that still taste good. The benefit of functional foods is that you can get a nutritional supplement while eating your favorite refrigerated bar, yogurt or drink."
A report by Grand View Research, a San Francisco-based market research and consulting company, said the "global functional foods market size was estimated at $161.49 billion in 2018 … Increasing demand for nutritional and fortifying food additives is anticipated to drive the growth … The major motive … is to increase the nutritional content in food items."
Benefits
Cristin Smith, CEO and founder of Saffron & Sage, a holistic health club in Little Italy, said the term functional food first emerged in Japan in the 1980s. She said, through research, functional foods have been proven to combat cancer, diabetes, heart disease, as well as support an array of other health conditions.
"Functional food is centered around the idea of healing foods that not only nourish the body, but provide a medicinal benefit," said Smith, adding that Saffron & Sage is rolling out a micronutrient testing program this fall to better help clients function optimally especially as it pertains to consuming functional ingredients. "These fortified, nutrient-dense foods are reducing the risk of disease and promoting optimal wellbeing … When we consume whole foods, we are providing our body what is needed to create energy and enhance our vitality."
New, Existing Ingredients
According to The NPD Group, a market research company based in Chicago, about a quarter of U.S. adults are trying to manage a health or medicinal condition through their diet, specifically with ingredients that are high in antioxidants, as well as ingredients for digestive health.
This includes mushrooms, some of which are associated with boosting the immune system, among other health benefits. A popular one is the ashwagandha herb, in the adaptogens family, which is believed to act as a sedative. Others include turmeric, considered an anti-inflammatory and antidepressant, and ginger, which aids in digestion and has antinausea properties.
While the functional foods segment is still in its cyclical infancy, its future looks fruitful. An article last year called "Top 10 Functional Food Trends" on the Institute of Food Technologists website said, "Sales of functional snacks are projected to reach $8.5 billion by 2020, up 11% per year. Six in 10 want snacks that deliver health benefits beyond nutrition, up 8% over 2016; 59% want vitamins/minerals, and 57% seek an energy boost."
Here to Stay
Founder Travis Piéd of LÜME Wellness Inc., a San Diego-based brand offering functional granolas that sell for $39 per box of six, said he believes there will be a product that will target every illness down the line.
"I believe functional foods are becoming a staple," he said. "I envision there to be functional foods and beverages designed to combat nearly every ailment and to stimulate an optimal way of feeling and state of mind from the moment someone wakes up until they climb into bed and even while they're sleeping."
Other local experts in the field agree.
"Functional Foods are definitely not a fad, but are the foundation of living a therapeutic and sustainable lifestyle," said Saffron & Sage's Smith, adding that they are essential to regaining or maintaining overall wellbeing. "If anything, I think we will see more brands like Enclave popping up making functional foods accessible and medicinal meals as the new norm."