EATERY IS CLOSING AFTER SIX YEARS; IT FACED COMPETITION FROM ONE PASEO
Hakkasan Group To Close Its Searsucker Del Mar
Sunday, September 15, 2019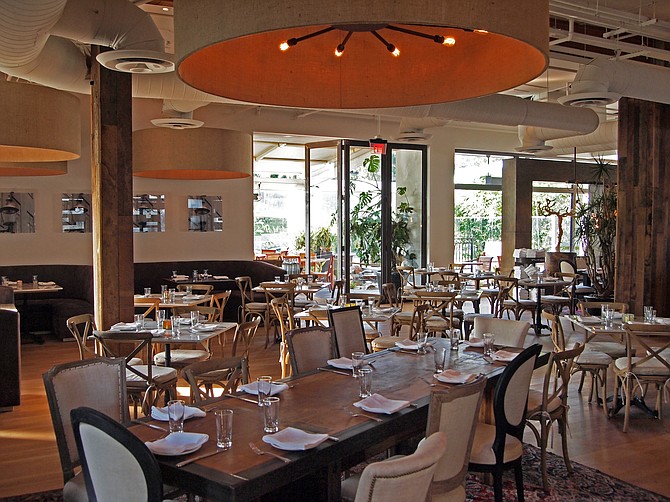 According to a WARN filing by Hakkasan Group, which owns Searsucker Del Mar as well as a Searsucker location downtown and another in Las Vegas. The Del Mar Highlands Town Center restaurant will officially shutter its doors October 30. Forty-three employees will be laid off, as per the filing, including bartenders, line cooks, servers and bussers.
"After careful deliberation we have taken the difficult decision to close Searsucker Del Mar located at the Del Mar Highlands Town Center on October 30, 2019," read a statement provided by the Hakkasan Group. "The restaurant will operate as normal until then. We'd like to thank our loyal customers for their continued support over the last six years. Our other local Searsucker in the Gaslamp District continues to thrive and serve the greater San Diego community."
'Social' Dining
Searsucker Del Mar was originally called Burlap, an "Asian Cowboy" themed eatery founded by chef Brian Malarkey. In the summer of 2013, Malarkey closed Burlap and, a month or so later, opened it back up as Searsucker Del Mar. On its website, Searsucker Del Mar is described as "a social dining destination with coastal flare where the surf meets the turf in sunny Del Mar."
In 2014, Malarkey sold a majority stake in the Searsucker chain, as well as his Herringbone restaurant located in La Jolla, to Las Vegas-based Hakkasan Group. And, in 2018, he officially parted ways with the restaurant and nightlife group to focus on his San Diego-based Puffer-Malarkey Restaurants company, which he co-founded with business partner Chris Puffer in 2016. The collective includes Herb & Wood and Herb & Eatery in Little Italy, Green Acre Campus Pointe, Green Acre Nautilus and Farmer & The Seahorse.
Puffer-Malarkey is scheduled to open high-end Asian restaurant Animae and an Herb & Sea in Encinitas, later this year.
"Searsucker and Herringbone are two unique concepts I will continue to be proud of," Malarkey said in a 2018 statement. "I am grateful for the incredible employees, many that have been with us since the start, friends and the loyal clientele who have helped drive their success and it's been exciting to watch their expansion over the last few years under Hakkasan's guidance. However, at this time in my career, I would like to focus entirely on my hometown of San Diego and its incredible dining scene."
Malarkey maintained equity in Searsucker and Herringbone but is no longer involved with the restaurants' management. Herb & Wood made north of $9 million in 2018 and Puffer Malarkey's revenue growth from 2017 to 2018 was close to 10%, according to the company.
Competition?
The addition of One Paseo, a mixed-use development in Carmel Valley located right across the street from the Del Mar Highlands Town Center, might be affecting overall business at the Del Mar Highlands location. One Paseo, which opened earlier this year, includes a mix of local and national eateries such as Salt & Straw, Shake Shack, Tender Greens, Parakeet Café, Mizukiyama Sushi, International Smoke, Ways & Means and North Italia, among a hefty list of food and beverage options.
The closing of Searsucker Del Mar comes just months after Del Mar Highlands Town Center revealed the first round of tenants to join the location as part of its $120 million renovation, which adds more than 120,000 square feet called The Collection at Del Mar Highlands Town Center. The space will include a mezzanine outdoor deck and 40 additional shops and eateries such as OH! Juice, Head Lettuce and a Jimbo's grocery store. Scheduled to launch in 2020 will be The Sky Deck, a 20,000 square foot complex that will feature Le Parfait Paris, Ambrogio 15 and a bar called Noblesse Oblige.