Tocagen's Brain Cancer Therapy Fails Clinical Trial
Thursday, September 12, 2019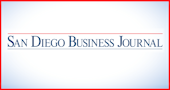 Shares of Tocagen fell Sept. 12 after its brain cancer therapy failed a late-stage clinical trial.
The company's combo treatment – Toca 511 and Toca FC – missed the primary endpoint of extending patients' survival compared those on standard of care.
In the aftermath, Tocagen's stock fell 77% on Sept. 12 to close at $0.93 a share. The San Diego biotech in a news release said it would conduct an "operational review," but didn't elaborate.
"Recurrent brain cancer represents a very high unmet medical need and patients with this disease have very few treatment options," said CEO Marty Duvall. "While the Toca 5 trial results are disappointing, we will be conducting a thorough analysis of the data including molecular analyses and pre-planned subgroups."
Tocagen's therapy is designed to active the immune system to fight brain tumors, including glioblastoma.
Some investors downgraded their expectations for the combo therapy earlier summer after an independent data monitoring committee said the late-stage trial should continue. The move signaled the cancer therapy didn't extend patient survival three-quarters into the trial.