LOCKHEED MARTIN'S AEGIS SYSTEM WORK CONTINUES IN PORT
Lockheed Martin's Aegis System Work Continues in Port
Thursday, September 12, 2019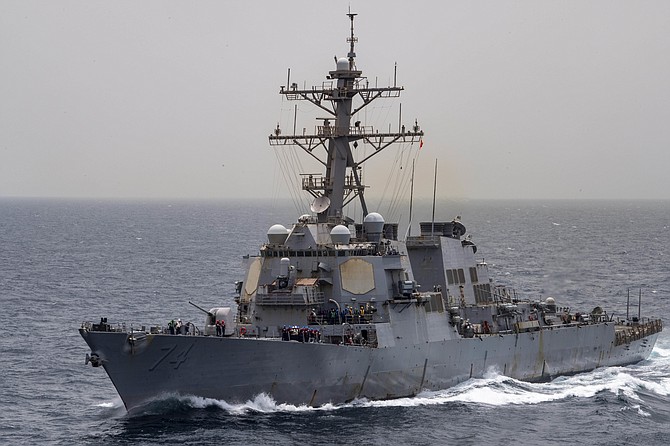 The following are selected defense contracts awarded to San Diego County companies or performed in San Diego County in August and September. The U.S. Department of Defense releases a digest of contract awards daily at 5 p.m. Eastern Daylight Time.
Roughly $4 million of a U.S. Navy deal totaling $50.3 million will flow to San Diego, according to a Sept. 3 Pentagon contract announcement.
The Navy exercised an option with Lockheed Martin Co. to integrate and test the Aegis Weapon System on Navy ships including Arleigh Burke-class destroyers. The new, five year deal will modernize seven existing ships and equip nine new ships. In addition, it will cover the integrated combat system modifications and upgrades for all current ships.
The Aegis system includes a sophisticated radar and can reportedly track and destroy ballistic missiles, as well as other airborne threats. Lockheed Martin has introduced a shore-based version of the Aegis system.
Work will be done in Morristown, New Jersey and several Navy ports. The Naval Sea Systems Command of Washington, D.C. awarded the deal.
General Atomics Is a Submarine Subcontractor
General Atomics went up against two other bidders and won a U.S. Navy contract to provide up to two BSS inseparable assemblies for Columbia-class submarines. BSS stands for bearing support structure. General Dynamics Electric Boat and Huntington Ingalls Industries just started building the new class of submarines, which will measure 561 feet long, carry ballistic missiles and eventually replace Ohio-class submarines. The five-year, indefinite delivery, indefinite quantity contract could be worth up to $33.2 million. San Diego-based GA will perform the work at its Tupelo, Mississippi facility. The Naval Surface Warfare Center's Carderock Division in West Bethesda, Maryland awarded the contract, announced on Sept. 3.
Navy Spreads Boat Yard Work Around
Several San Diego County businesses and a Los Angeles County business will split up to $15 million of marine boatyard services and industrial support for U.S. Navy vessels greater than 50 feet long. The Southwest Regional Maintenance Center of San Diego awarded the options under previously existing Navy contracts. The businesses getting the contract modifications are Al Larson Boat Shop Inc. of San Pedro, Epsilon Systems Solutions Inc. of San Diego, Integrated Marine Services Inc. of Chula Vista, Marine Group Boat Works Inc. of Chula Vista, Miller Marine Inc. of San Diego and Nielsen Beaumont Marine Inc. of San Diego. The Pentagon announced the awards on Aug. 30.
Marines Line Up Behind SDG&E
The U.S. Navy awarded San Diego Gas & Electric Co. a $12.8 million task order for energy conservation measures at Marine Corps Base Camp Pendleton. Work will run through October 2020. SDG&E will install an advanced metering infrastructure, install supervisory control and data acquisition (SCADA) systems, replace a variety of lights and light fixtures with light emitting diodes, replace boilers, and retrofit or replace heating and air conditioning units. The military will finance the project, expecting to pay $15.6 million over 13 years. The Naval Facilities Engineering Command Southwest of San Diego awarded the deal, announced on Aug. 30. SDG&E is part of Sempra Energy.