American Wave Machines Signs Licensing Agreement with Brazil Co.
Thursday, September 12, 2019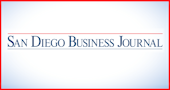 San Diego-based American Wave Machines, Inc. has signed a licensing agreement with JHSF Participacoes SA, a company in Sao Paulo, Brazil, to launch the first PerfectSwell location in the state. According to a press release, the project kicks off immediately and surfing is anticipated to commence November 2020.
"We could not be more thrilled to build world class PerfectSwell surf facilities with a world class development team like JHSF," said Bruce McFarland, CEO of American Wave Machines. "The Brazilian Storm is for real, with Brazilian athletes having the largest national representation of any country on the WSL Championship Tour. PerfectSwell makes concentrated surf training available to an already talent rich surfing country."
American Wave Machines is a wave pool, surf park and wave technology company. JHSF is a Brazil-based holding company engaged in the real estate industry.
Travel & hospitality reporter Mariel Concepcion can be reached at mconcepcion@sdbj.com or 858-634-4625.