EATERY MAKES CASE FOR FREE RANGE CHICKENS BEING BETTER FOR BIRDS AND DINERS
Factory Farms Not On Crack Shack's Chickens' Bucket List
Wednesday, September 11, 2019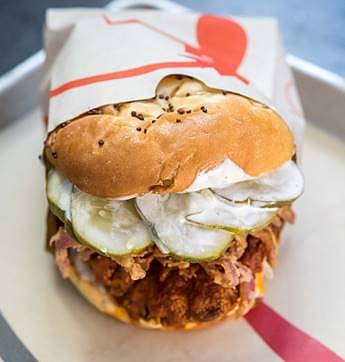 While Popeyes, Chik-fil-A and Wendy's battle it out for the best chicken sandwich throne, a local gourmet fried-chicken eatery has joined the conversation.
The Crack Shack, founded in San Diego with five locations in Southern California, two of which are in the county, and a sixth location recently opened in Las Vegas, is contending for the humanely raised chickens to have a voice in the conversation. The restaurant launched a Change.org petition which claims free-roaming chickens taste better than the factory-farmed chickens used at the fast food places currently engaged in the fried chicken sandwich war.
"Aside from the fact that our sandwich offerings taste better, the current conversation is one part taste and one part popularity contest," said Mike Rosen, founder and CEO of The Crack Shack. "There is no doubt from a popularity perspective that the multinational chains with their large store counts and advertising budgets rule the roost. (But), this all detracts from the important conversation regarding ingredients. While we would not argue that factory farmed birds have the potential to taste great, they are seldom ethically raised and often have poor diets including antibiotics."
Gets Antibiotic-Free Chickens
Rosen said the chickens sourced by The Crack Shack are locally raised, antibiotic-free Jidori chickens from Los-Angeles-based Mao Foods, which feeds its chickens all-natural grains with no meat by-products, hormones or steroids. Each chicken is processed by hand by a small boutique USDA-inspected company and are delivered daily in the mornings.
"Our birds have all vegetarian non-GMO diets, have much more room to roam and are delivered fresh daily," said Rosen, adding that The Crack Shack also gets its eggs and other produce from local farms. "And, they taste great."
Some of The Crack Shack offerings include the "Coop Deville", made with fried chicken, pickled Fresno chilies, lime mayo and Napa cabbage on a brioche bun; the "Double Clucker", with two ground chicken patties, cheddar cheese, bacon, avocado, pickles and fried onion on a potato roll; and the "Firebird," which has a spicy fried chicken thigh, ranch, crispy onions and pickles on a potato roll.
Quality Birds
Rosen said the objective of the petition is to draw attention to the use of higher quality ingredients.
"The goal of the petition is to put a positive spin on our higher quality ingredients," he said. "If you search Change.org for chicken petitions, there are many that are focused on boycotting fast-food chains that serve factory farmed chickens. We would rather have the conversation focused on 'where can I find delicious sandwiches with higher quality chicken'."