Acadia's Stock Shoots Up After Late-Stage Results
Monday, September 9, 2019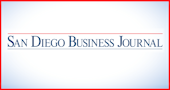 Shares of Acadia Pharmaceuticals rocketed up 63% on Sept. 9 after its drug in a late-stage clinical trial achieved "robust statistical superiority" over a placebo for dementia-related psychosis.
After the positive results, Acadia stopped the clinical trial early, following the recommendation of an independent committee. The drug, nuplazid, met its main objective of delaying relapse to psychosis.
Nuplazid in 2016 received the U.S. Food and Drug Administration's blessing to treat hallucinations and delusions caused by Parkinson's disease. Acadia has tested the drug in related indications.
Based on the latest clinical trial data, Acadia President Serge Stankovic said the company would file for approval of nuplazid in dementia-related psychosis.
Acadia's stock closed at $38.85 a share on Sept. 9.
The news comes after a setback for Acadia. In July, the San Diego biotech said that nuplazid failed to improve the overall symptoms of schizophrenia in the final stage of clinical trials.