PROPERTY: TROLLEY RIDERS, RENTERS SERVED BY MIXED-USE
Openness to Define Bay Park Apartments
Thursday, September 5, 2019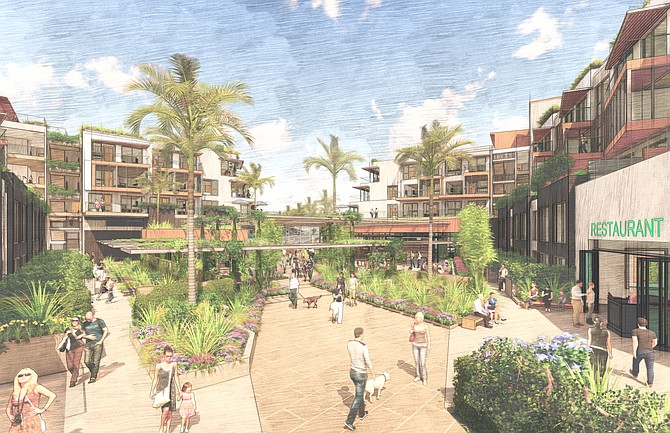 Instead of walling itself off as an exclusive private enclave, a proposed Bay Park apartment complex is being designed to encourage people to wander through its lushly landscaped promenades.
"The idea is we are trying to create sort of a town square and a gateway to the community as opposed to building sort of a gated apartment building," said Andrew Malick, development director for the Bayview Plaza project proposed by Protea Properties. "We really opened the project up and made it more of a public plaza with restaurants and commercial space for gyms and coworking space. It's truly a mixed-use project."
That's just part of what would make Bayview Plaza far different from a typical apartment complex.
The 3.5-acre site at the intersection of Clairemont Drive and Morena Boulevard is across the street from a future Blue Line trolley station and Bayview Plaza is designed to accommodate trolley riders — providing 150 park-and-ride spaces in addition to the 224 spaces earmarked for apartment residents in an underground garage.
Trolley Work
SANDAG is using the site as a staging area for trolley construction.
Pending city approval, work on Bayview Plaza is scheduled to begin once the trolley station is finished and SANDAG vacates the lot, which Malick anticipates would be spring 2020 at the earliest.
"What's wonderful about this site and unique about it is it's situated roughly halfway between University City and downtown and it's also connected by trolley to the work centers in Mission Valley," Malick said, adding that the adjacent trolley station provides commuting alternatives to freeway travel.
"We see this project as one that could appeal to a broad demographic of people with the common thread that they don't want to get in the car in the morning," Malick said. "The whole idea was how do you design a project that really is emblematic of that transit-oriented development?"
The complex, whose cost was not revealed, would have 156 apartments and 40,000 square feet of commercial space.
Apartments would range from 450 square feet to 600 square feet for studios, 700 square feet to 900 square feet for one-bedroom apartments, and 900 square feet to 1,350 square feet for two-bedroom apartments.
Rents would be market rate, although Malick said it's too soon to say what the market rate will be when the complex is finished.
"We tried to provide a variety of size units so we could hit a number of different price points," Malick said.
The project would include 16 apartments designated affordable for families earning up to 50 percent of the area median income — $53,500 for a family of four.
Designed by Safdie Rabines Architects, the project has four buildings surrounding a public plaza. The buildings to the front are steeped-up with landscaping surrounding them, at each level and on the rooftop.
Working on the project with Protea Properties and Safdie Rabines Architects are KPFF Consulting Engineers and Spurlock Landscape Architects.
Open, Shared Space
"It really is an important location and you should feel that you've arrived at something," said Taal Safdie. "One of the main things that the developer really wanted was this to be a place, a designated meeting place, a link between the trolley and the community, something that is truly open and shared."
The buildings are arranged in a diagonal where Morena Boulevard and Clairemont Drive intersect with the circular plaza in front where the streets intersect.
"The shape of the buildings came out of that idea of creating this diagonal that connects the trolley to Clairemont Mesa," Safdie said. "You kind of go through something that has a whole variety of places that can be used by the public and the residents of the building."
The buildings also were arranged to take advantage of the San Diego Bay, with most featuring bay views.
"They have angled windows so you can be sitting at your window and see the water, Safdie said.
To help make the project more a part of the community, the plan is to attract a small grocery that would offer meals to go and a café where commuters and residents could grab a quick bite, Malick said.
"We're trying to be good neighbors and we're trying to make sure we fit into the existing neighborhood of Bay Park," Malick said. "We want the neighbors to be as proud of the project as we are."
Protea Properties President Jeffrey Essakow said the Bayview Plaza "represents the future of development in San Diego.
Living Room for Bay Park
"It's more walkable, there is less reliance on the automobile, and it will provide housing for people of varying income levels," Essakow said. "My passion has always been creating places where people want to come, not have to come. I imagine our plaza space as the living room for Bay Park."
Protea Properties is part of the development team for Seaport San Diego, the planned replacement and expansion of Seaport Village.
The firm also redeveloped Flower Hill Promenade in Del Mar. n