InterContinental San Diego to Launch Fourth Floor Rooftop
Thursday, September 5, 2019
InterContinental San Diego, located in the downtown area, will be opening a new food and beverage spot. According to a press release, Layover will open Sept. 7 and will be located on the hotel's fourth floor landing.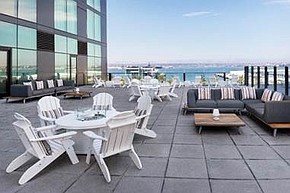 The name Layover is inspired by the area's four airfields: the USS Midway flight deck, the US Coast Guard air station, US North Island Naval station and San Diego airport, reads the release. The venue will include an outdoor lounge with views of the downtown skyline.
"When your flight is landing in San Diego, you're briefly greeted by an incredible view: the city skyline soaring behind you and the shimmering bay out in front," said Jeff Josenhans, food & beverage director of the casual concept. "Layover captures that moment and feeling, embodying it in a physical space where you can stop in for a drink before dinner or linger with friends on the weekend."
Layover's menu will include aero-inspired cocktails like the Paper Plane, made of Bulleit bourbon, Aperol, vermouth and lemon, and the Aviation, with Aviation gin, violet liqueur, maraschino and lemon. The food menu will have shareable bites as well as heavier dishes like BBQ Gonestraw Farms duck steamed buns and local flounder ceviche with coconut, according to the company.
Layover will open daily from 11am to 8pm. During the months of September and October, it will offer a series of wellness events to kick things off.
Travel & hospitality reporter Mariel Concepcion can be reached at mconcepcion@sdbj.com or 858-634-4625.