REQ SEES VALUE IN IMI'S EXPERIENCE, TEAM AND PLATFORM
Washington, D.C., Based Marketing Co. Acquires IMI
Monday, September 2, 2019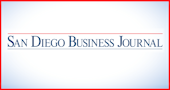 Internet Marketing Inc., a San Diego-based digital marketing company, was acquired by Washington D.C.-based firm REQ on August 20. The combined company will have more than 120 employees across six offices, and bring in more than $50 million in revenue per year.
"We've been working toward this milestone for some time now," Internet Marketing Inc. CEO Jason Brigham said, adding that the merger would take his agency to a "different weight class."
Based in San Diego, Internet Marketing Inc. (IMI) also has offices in Las Vegas. The company offers digital marketing solutions for medium and large businesses across a wide variety of sectors, with an emphasis on data science. Some of its clients include MasterCard, Navitas, Arizona State University and Hard Rock Hotels International.
REQ CEO and Founder Tripp Donnelly said IMI's services were a match for his agency's work, which focuses on search marketing, social media and digitally focused campaigns.
"With expanded resources and coast-to-coast footprint, the combined company will bring a new level of innovation, scale and creativity to our clients, giving us global reach with regional expertise," Donnelly said in a news release. "We know the IMI team, platform, and experience will be a great complement to our suite of services and our culture."
Donnelly said conversations between the two companies began at the end of last year, and accelerated in 2019. He originally crossed paths with the company long ago at a conference, and thought they would be a good fit.
"We have known the company for many years and watched them," he told the San Diego Business Journal. "It was extremely complementary for us."
REQ's Fourth Acquisition
The deal would make for REQ's fourth acquisition since the company was founded in 2008.
"Having gone through this a number of times, we're going to be very deliberate," Donnelly said.
REQ's clients include heavy hitters, such as Bayer, Disney, Intel and PayPal. The company has offices in Washington, D.C, New York, Boston, San Francisco and Vienna, Va.
With the merger, IMI's offices will rebrand as REQ. IMI's current leadership in San Diego and Las Vegas will remain involved with the combined company.