MANUFACTURING: THE SYSTEM SUPPORTS WORKERS DOING VARIOUS TASKS
Levitate's Exoskeleton Handles Stress, Strain
Monday, September 2, 2019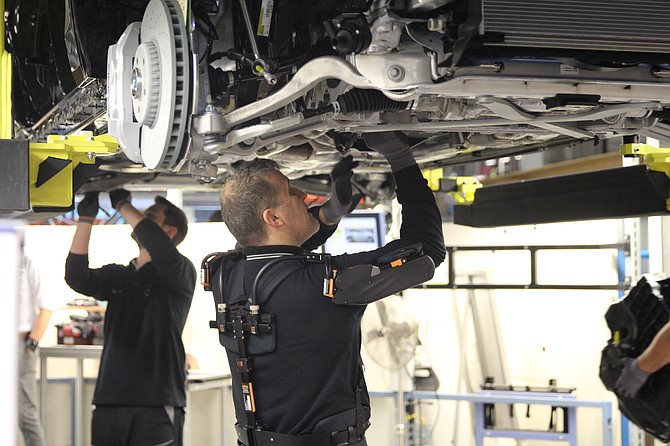 The product went to market in 2017 with its Airframe Exoskeleton, an upper body exoskeleton device. Levitate Technologies Inc., a San Diego-based company that makes muscular skeletal health management technology, already had orders in from the likes of Toyota, John Deere and BMW.
Initially inspired by the medical field, co-founder Joseph Zawaideh said when he and his team noticed the demand within the industrial and skill trade professions, they decided to switch gears and focus on workers with demanding overhead jobs in order to help reduce muscle stress and fatigue.
D&K Engineering's Role
Today, Levitate, with five direct employees and headquartered in Sorrento Mesa, sells its 5.5 pound, aluminum upper body frame for $5,000 apiece. All components for the Airframe are sourced from several vendors, mostly in the U.S., and then shipped to D&K Engineering, Levitate's manufacturing partner located in Rancho Bernardo, which handles production and all order fulfillment. According to Zawaideh, the company's revenue grew by 280% in 2018.
Levitate got started when Zawaideh's partner and inventor of the product, Mark Doyle, noticed the fatigue surgeons experience while working over patients; the serial-inventor had previously invented a surgical instrument used in operating rooms by surgeons, a technology which he sold. He decided the best way to help surgeons with neck, back and shoulder pain was not by providing an arm rest or an underarm cushion, but by creating a wearable upper body skeleton. He built the prototype in his garage and, later on, raised private funding from a group of super angel investors.
According to Zawaideh, the way the Airframe works is simple.
"If you were to change 50 overhead lightbulbs in a row, you can imagine after the sixth or tenth lightbulb, your shoulders will start to ache a bit," said Zawaideh, who studied bio-engineering at UC San Diego and received his MBA from the University of Southern California. "Imagine if somebody standing right next to you… puts their hand right above your elbow… when your arm is above your head trying to unscrew… and then when you lower your arm, they take their hand out of the way." This is how the Airframe works. "It supports your arms when elevated in an ergonomic way that feels completely natural. When you lower the arm, the support goes away. It is light weight and takes the load off the arms and shoulders and back… offloading fatigue and aching to the outside of the hips."
Toyota was so impressed by the Airframe and its capabilities, that it teamed up with Iowa State University to conduct a study on its effects. The assigned professor collected one billion data points, according to Zawaideh, over the course of 2.5 years. What the study found was that the Airframe is indeed shifting the way the load is on the upper body in an effective and healthy way. It also found that the Airframe was taking jobs that were in the red zone, or high risk, and putting them in the green zone. As a result, Toyota made it corporate policy personal equipment for certain overhead jobs in the red zone. It is the first time in history, according to Zawaideh, that a skeleton is made mandatory by a company.
The Airframe continues to gain popularity, says Zawaideh. He said this is mostly due to word of mouth, but, also because of PR and marketing efforts, attending conferences, and, lastly, due to a high volume of recommendations by workers' compensation providers.
Insurance Cos. Recommend It
"They are realizing the frame can reduce injury and save insurance company money," said Zawaideh, "so, they are recommending it to their clients. We have large workers' comp companies currently recommending us to their companies."
Gregory Tolver Jr., insurance agent and owner of J.R. Tolver State Farm in Mira Mesa, said it makes sense that workers' comp providers suggest their clients use the Airframe.
"I would say any company that has a history of a certain type of injury has to do all it can to prevent it from happening over and over again," he said. "Any good company and good insurance agent should try to proactively recommend things that can keep the injury down, thus keep the mod factor, or their rate, down, thus keep the premium down for the employer."
The most difficult part of selling the Airframe has been working with its customers to adapt this new modality, said Zawaideh. It isn't a better drill or a better glove, it's an entirely new type of product, he said, so, it requires a shift in the way people do their work and also finding the proper storage for them within the company's space.
"If you can think about steel toe shoes, when they first came out, people didn't like them," he said. "Now, you can't be on a work site without them. The adaptation cycle and integrating into manufacturing ecosystem because it is so new has been a challenge."
Still, Zawaideh is optimistic.
He said Levitate will go back to square one and create a skeleton specifically for surgeons. Although there isn't a time frame yet on when they will begin production on that product, Zawaideh said the company already has clinicians waiting for them to get started. n