Seismic Poaches Google Exec as New Chief Marketing Officer
Originally published October 31, 2019 at 6:08 p.m., updated October 31, 2019 at 8:41 p.m.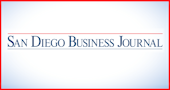 Fast-growing San Diego software company Seismic hired a new chief marketing officer with several big tech companies on his resume. Michael Londgren, a former marketing executive at Google Cloud and DocuSign, joined Seismic in October.

At Google, Londgren headed up product marketing for Google's suite of productivity apps, such as Gmail and Google Drive. Prior to that, Londgren worked for DocuSign for six years, where he helped scale the company from 180 employees to more than 2,000 as the company went public.
Londgren also has leadership experience at Adobe Systems, BoardVantage, and Encover on his resume.
That experience will prove valuable as Seismic continues to scale rapidly — potentially toward its own IPO. Seismic has done well building sales-enablement software that gives sales reps the information they need to close a deal, and that market is expected to grow. At the end of 2018, Seismic closed a $100 million funding round, and CEO Doug Winter has hinted at ambitions to take the company public.
"Michael has an impressive history working with companies that define and lead a market," Winter said in a news release. "At Google, Michael helped establish G Suite as the market leader in Cloud-native collaboration and productivity solutions. At DocuSign, he played a key role in establishing the company as the market leader in Digital Transaction Management. And at BoardVantage, he helped establish the company as the market leader in hosted board of director communications. I'm confident that Michael will help Seismic deepen its own market leadership."
In his new role, Londgren will oversee Seismic's international and vertical growth, while working to solidify the company's position as a market leader. Seismic recruited Londgren, who was impressed by the company and saw an opportunity to grow its category leadership globally as part of its executive team.
Michael was recruited by Seismic, but was already familiar with the company given his passion for enabling marketing and sales teams to partner deeply on delivering amazing experiences to customers. He was also impressed by the company's growth, technology innovation, and the value Seismic brings to its customers. Upon meeting with Seismic leadership and the team, he recognized the opportunity to help grow the company's category leadership globally as a member of the executive team.
John Raguin, who has served as Seismic's CMO for nearly two years, departed from the company in September, according to his LinkedIn page. He had previously served as a venture partner with F-Prime Capital Partners.
Seismic stated that Raguin recently left the company to pursue other opportunities.
This article has been updated with more information on Londgren's recruitment and Raguin's departure.