San Diego Architectural Students Compete In National Event
Thursday, October 31, 2019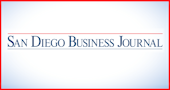 A team of students from San Diego's New School of Architecture & Design are among three finalists chosen to compete in the 2019 National Design-Build Student Competition.
Calling themselves PCH Group, competing students from the San Diego team are Christa Pudlo, team captain, and Jonathan Escarrega, Kuzma Nefedov, Joseph Yarrington and John Gonzales.
Steven Matley is the faculty advisor.
They will compete against teams from Seminole State College of Florida and Oklahoma State University.
The competition is slated for Nov. 7 in Las Vegas at the Design-Build Institute of America's Design Build Conference & Expo.
The teams will be questioned from a panel of industry experts about their design and construction plans for a hypothetical college performing arts center.
The competition started with 35 teams from 27 universities.
Real estate reporter Ray Huard may be reached at rhuard@sdbj.com or 858-277-8904.