NuVasive Sees Stock Increase After Earnings Report
Thursday, October 31, 2019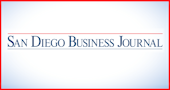 In third quarter earnings spine implant maker NuVasive recorded $290.8 million in revenue, a 7.2% year-over-year increase.
The average estimate of analysts surveyed by Zacks Investment Research was for $283.6 million in revenue.
The San Diego company reported net income of $11 million, or $0.21 per share, compared to net income of $15.9 million, or $0.30 per share, during the prior year period.
On Oct. 31 NuVasive shares increased 6% to close at $70.54.
Gross margin was 73.5%, versus 72.7% in the same period a year ago, according to the company.
"In the third quarter 2019, NuVasive grew at multiples of market, with revenue increasing 7.2% driven by nearly double-digit organic growth within U.S. hardware," said Christopher Barry, CEO of NuVasive. "In addition to strong topline results, our margin expansion demonstrates the ability to improve profitability with continued commitment to driving operational excellence."
With the third quarter results, NuVasive lifted its revenue expectations for the year to $1.16 billion, compared with prior guidance of $1.14 billion to $1.16 billion.