TECH: IT TAKES YOU INTO THE CONTESTS, THE COMPETITION, THE PLAYERS
App Aims to Rule the Waves of Action Sports
Thursday, October 31, 2019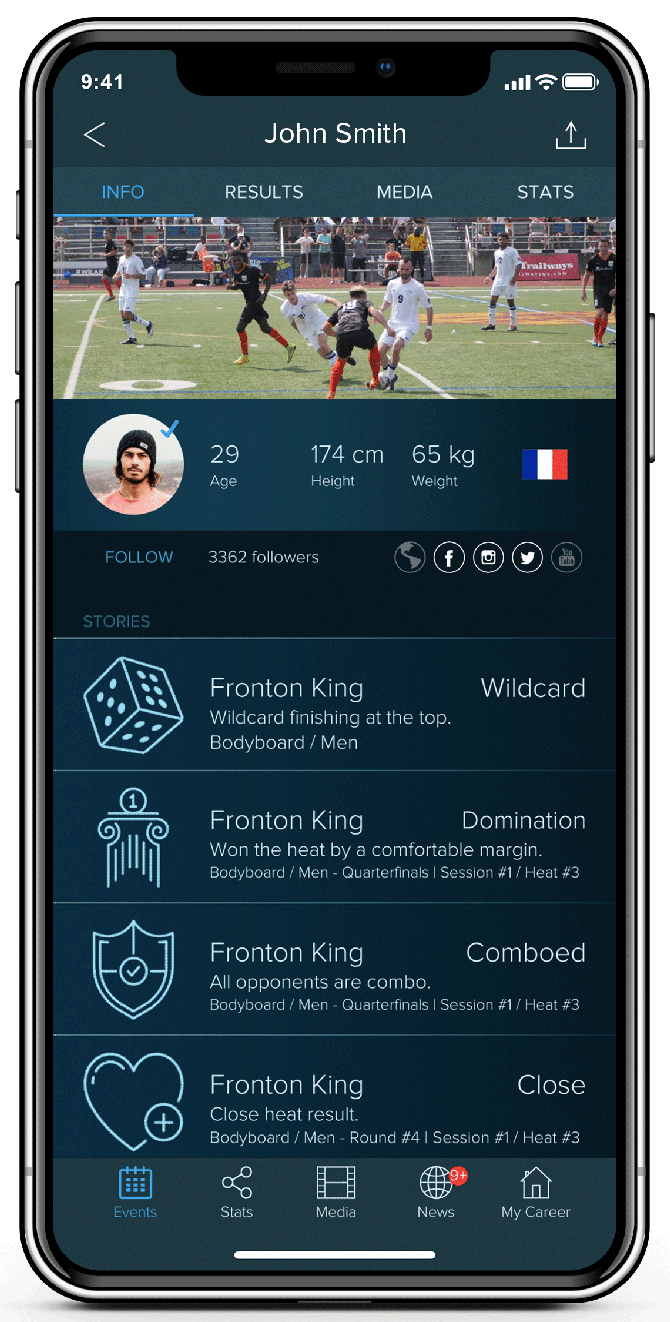 While thousands of sports fans turn to ESPN or CBS Sports to keep tabs on the big game, fewer options exist for surfing, snowboarding or other action sports despite their popularity. That's where Jeran Fraser got the idea for Stact, his startup that provides real-time scores and event management for sport competitions. The company was named one of this year's finalists for the John G. Watson Quick Pitch Competition.
For Fraser, it started with surfing. Fresh out of college, his first startup was a real-estate company, Reserve Land Management, which he started by selling land on eBay. In his free time, Fraser would surf, and in 2003, he served as team manager for sports brand Dakine's U.S. Surf Team.
After the 2009 recession, Fraser moved from investing in land to investing in startups. He opened Incubate Ventures in Carlsbad, which hosts a plethora of action sports startups, including Stact.
Fraser met his co-founder, Michael Jegat, while playing basketball at the Encinitas Community Center. He helped Jegat with his own business, which raised $1 million and developed mobile surfing game "YouRiding."
Live-Streaming
The two teamed up to create Stact in 2017, with the goal of providing real-time scores and live-streaming to fans of surfing and other often-overlooked sports. Stact also has features for event managers and athletes, making it easier to plan a competition and share performance stats.
"My co-founder and I have been involved in the surfing world and there never has been a platform, even at the professional level, to create a live-scoring feature," Fraser said. "We knew there were a lot of people interested in surfing. … We knew there was a need."
Stact's timing is particularly fortuitous, Next year, surfing will be included as a sport in the Olympic Games for the first time as it becomes more popular around the world.
Fraser and Jegat realized the athletes they were targeting might also follow other sports, such as standup paddle boarding, mountain biking or snowboarding. The company landed its first big client with the World Bodyboarding Tour, which drew thousands of users to the platform for its live-scoring feature.
"We knew it was scalable into other markets," Fraser said. "We began segmenting and siloing those different sports in the platform."
Beefing Up Its Sports Lineup
Stact has also begun treading into more familiar territory, working with amateur soccer and amateur football teams. Fraser said he also hopes to bring rugby and e-sports onto the platform.
The company currently has eight employees, and was funded by $500,000 that Fraser and Jegat put into the company, as well as a $300,000 friends-and-family round.
In the long-term, Fraser hopes to build out Stact's capabilities using AI to help with livestreaming and scoring. For example, it could track when a goal was scored or when points were scored, either using jersey numbers or using facial recognition technology.
"The challenge is, you're solving new equations," Fraser said. "They've never had live scoring, so how do you create these tools?"