Lyft Selects San Diego Nonprofits for Grants
Wednesday, October 30, 2019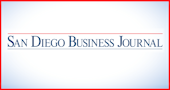 On Oct. 29, Lyft, the ridesharing service, announced the recipients of its local grants program in San Diego. According to a press release, Burn Institute, Mama's Kitchen and Wounded Warriors Homes will all benefit from Lyft rides to further their causes.
Burn Institute will use the service to emergency needs and special assistance programs, like transporting burn survivors to appointments, support groups and other outings related to their recovery; Mama's Kitchen will provide transportation to its low-income food pantry clients through the grant; and Wounded Warrior Homes will shuttle veterans get to counseling sessions and medical appointments, according to the release.
"We're grateful to Lyft for honoring our clients, post 9/11 veterans, with reliable and accessible transportation," said Mia Roseberry, executive director and co-founder of Wounded Warrior Homes, via the release. "These individuals are struggling with traumatic brain injury and post-traumatic stress disorder, and we believe they shouldn't have to worry about how to find a ride to their medical appointments as well. Lyft will effectively fill this need, and is helping San Diego veterans become mentally and physically healthy again."
Lyft's local grants program was developed in 2018. In July 2019, the company announced over 40 cities would be awarded Lyft ride grants. Nonprofits are awarded grants on a quarterly basis, with recipients determined by a local committee of Lyft employees and representatives from the Driver Advisory Council, states the press release.
Travel & Hospitality reporter Mariel Concepcion can be reached at mconcepcion@sdbj.com or 858-634-4625.