BIOTECH: FDA DESIGNATIONS SHOW NEED FOR RESPIRATORY DRUG
Ansun Biopharma Raises $80 Million in Series B Round
Tuesday, October 29, 2019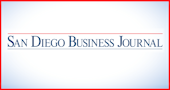 Ansun Biopharma — a San Diego biotech with a drug for respiratory infections caused by influenza and parainfluenza — has raised an $80 million Series B round.
That's according to a news release from Huaxing Capital, the financial advisor for the deal. Ansun did not return a request for comment.
Chinese investors put up the funding, which will largely go toward DAS181, Ansun's lead drug candidate.
Respiratory Tract Infections
DAS181 is in the midst of late-stage clinical testing for respiratory tract infections stemming from a group of viruses called parainfluenza. For most, symptoms are similar to a cold, but those with a weakened immune system are at risk for life-threatening infection.
A separate midstage clinical trial is testing the drug in patients with severe influenza infection, followed by testing in two other indications. Speeding up the timeline, DAS181 received fast-track and breakthrough designations from the U.S. Food and Drug Administration.
The FDA grants these designations to products that racked up preliminary evidence of treating serious conditions — and which have the potential to be a big improvement over the status quo.
Influenza strains rely on what are called sialic acid receptors to spread, a process that DAS181 scrambles.

Potentially Lifesaving Drug
In 2017, CEO Nancy Chang said Ansun had quietly been developing DAS181, which she called a potentially lifesaving drug.
Her past gigs include chair and senior managing director of Caduceus Asia Partners, part of OrbiMed Advisors. She was also the co-founder, president and chair of Tanox, which major pharmaceutical Genentech bought in a $919 million deal in 2007.
Formerly known as NexBio, Ansun was founded in 2003. Last year, the company raised an $85 million Series A round.
Michael Chang, an Ansun board member, said at the time: "We are very pleased to be leading this round in Ansun against a backdrop of increasing threat worldwide from very dangerous respiratory infectious diseases like influenza and parainfluenza."
Funding Round
Leading the latest round were Haisong Capital, Dawan District Common Home Development Fund, Jiachen Capital and KIP, with participation from existing investors Yuanming Capital, Lilly Asia Fund, Jingwei China, Materia Medica Capital and Jifeng Capital.