TEN OF 16 INVESTMENTS WERE IN LIFE SCIENCES
TCA S.D. Makes 9 Local Investments From Annual Fund
Monday, October 28, 2019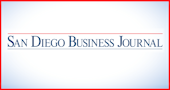 Tech Coast Angels-San Diego's new annual fund was a hit with local angel investors.
The angel investment group launched its $2.2 million ACE (Angel Capital Entrepreneur) fund at the end of 2018, in an effort to make it easier to invest in promising startups more quickly. It would allow the group to invest up to $500,000 in startups in as little as 30 days, and help diversify investors' portfolios.
Fund Was Larger Than Expected
In the annual report for the new fund, Tech Coast Angels said it was a success "by all accounts." The fund was larger than expected, with a total of $2.22 million invested across 16 companies. More than half of the deals were led by other investors, allowing for them to be "fast tracked."
"The Fund is an important component of our broader investment results," Tech Coast Angels- San Diego Executive Director Ashok Kamal wrote in an email. "This year in TCA - San Diego we have invested over $10 million. ACE Fund 19 was the first $100,000 to $500,000 of many of those investments, out of a total $2.2 million annual fund."
Nine of the investments were local, and ten of them were life science companies. They include LynxBio, a local company developing a model to test how a patient's cancer responds to various treatments, GoSite, a local customer engagement platform for small businesses, and Atlazo, a company developing wireless chips for wearable health devices.
The full list of companies includes:
Paradigm Dx: Paradigm uses diagnostics and biomarker-driven clinical trials to help cancer patients. The company can provide information about a patient's cancer and recommend potential therapies. Headquarters: Phoenix
DTx Pharma: creating a platform that would allow RNA therapeutics to access targets outside of the liver. The company is developing a way to deliver RNA treatments to cells using fatty acids, which could potentially allow access to undruggable targets. Headquarters: San Diego
Atlazo: developing chips for wearable health and IoT devices. Its system-on-a-chip allows data to be processed and analyzed in the device, rather than in the cloud. Headquarters: San Diego
Brius FMA: This Los Angeles-based company is developing an alternative to braces or aligners, that can be placed behind the teeth. Headquarters: Los Angeles
Lynx Bio: This San Diego startup develops a miniaturized, living model of a patient's cancer to assess its behavior and response to specific drugs. The company is initially working with blood cancers, such as myeloma and leukemia. Headquarters: San Diego
Healionics: Addresses the need for patients with kidney failure to have better vascular access for dialysis. The company's artificial blood vessel technology is intended to prevent other common issues with vascular grafts, such as infections or blockage from scar tissue. Headquarters: Seattle
GoSite: A SaaS solution for small businesses, GoSite helps companies manage their online presence and customer engagement. The company's software makes it easy for businesses to build websites, process payments, message customers, and have placement on Yelp, Google Maps, and other major sites. Headquarters: San Diego

KettleSpace: This New York-based company turns bars, restaurants and hotels into a network of workspaces. Its platform lets users view and book spaces for meetings and work while making it easier for venues to monetize their properties. Headquarters: New York
Elysium Tx: Elysium is developing two technologies that deter the abuse of opioids. One of its technologies, for example, can deactivate opioids in pain medicine after the prescribed period for usage has passed. Headquarters: New York
Elemeno Health: Software solution that provides cloud-based support to health care teams. This can include checklists, how-to videos and guidelines to help train team members on best practices for infection, cancer screenings and opioid safety. Headquarters: San Francisco
Actuate Tx: Developing small molecule therapeutics to treat cancer and fibrotic diseases, including glioblastoma, ovarian, breast and pancreatic cancers. Headquarters: Fort Worth
Grolltex: Graphene Rolling Technologies (Grolltex) produces single-layer graphene at a lower cost than most options on the market. The ultra-thin material is useful for electronics, sensors and membranes. Headquarters: San Diego
Lennd: Event venue management platform lets users manage information about vendors, artists, exhibitors, sponsors, contracts and volunteer credentials, all in one place. Headquarters: San Diego
Spiral Genetics: Spiral is developing software to make it easier to compare large populations of whole human genomes. The company is working with governments, pharmaceutical companies and academic research institutions to search for discoveries that could lead to new treatments or diagnostics. Headquarters: Seattl
Ceresti Health: provides care, coaching and education and other support tools for family members serving as caregivers for patients with Alzheimer's disease and other dementias. Headquarters: San Diego
Habitu8: This cybersecurity company builds security awareness programs for employees to prevent data breaches. Headquarters: Los Angeles.