BIOTECH: ABBOTT EXPECTED TO HELP TANDEM GROW INTERNATIONALLY
Tandem, Abbott Partnership Brings Closed-Loop System
Monday, October 28, 2019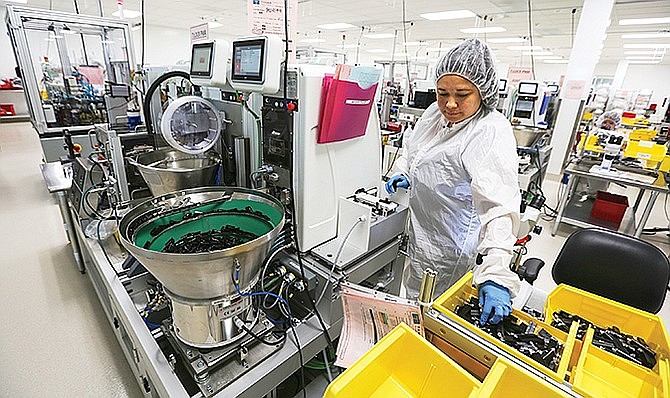 Tandem Diabetes Care recently dropped a big partnership announcement.
The San Diego company is working on product that combines its touchscreen insulin pump with a glucose sensor from medical behemoth Abbott.
By joining forces, the goal is a "closed loop" system that automatically regulates blood sugar levels in diabetes patients.
Seamless Treatment
"We're ensuring our products have interoperability, creating a cohesive ecosystem where people with diabetes can manage their condition across devices from us and other companies seamlessly," said Jared Watkin, senior vice president of diabetes care at Abbott, in a statement.
The announcement is the latest piece of good news for Tandem. Left for dead three years ago, Tandem turned into a comeback story with first-of-its-kind technology and surging sales.
Analyst JP McKim with Piper Jaffray said enlisting Abbott would help Tandem grow internationally, including in Europe.
But he noted the companies are still working on a final agreement.
'First Step'
"This is the first step in the process and shows the companies are in discussion, but there are a lot of moving pieces to get an integrated product to market, so at least 10 months out and likely more, in our view," said McKim.
Tandem's stock on Oct. 15 rose 9.5% following the partnership announcement, closing at $61.99 a share. Its stock hovered at this level over the next week.
Still Partners
But the tie-up unnerved investors in Dexcom, which makes glucose monitors and partners with Tandem. Dexcom, also based in San Diego, on Oct. 15 saw its stock fall 4.5% and finish at $152.97.
Dexcom's stock declined more over the next several days, though other factors could have been at play as well.
Could the new alliance fray ties between Dexcom and Tandem? McKim doesn't think so.
"Tandem and Dexcom will continue to work close as partners. They have a good relationship between management teams. This (announcement) is part of the move to interoperability that the FDA and patients want," McKim said.
On that note, Tandem CEO John Sheridan said in a statement:
"The FDA's new interoperable designations for the various components of automated insulin delivery systems are making integrations of advanced technologies more straightforward, and we are looking forward to exploring these possibilities with Abbott."